FRESH MANGO TOPPINGS ADD FLAVOR, COLOR AND FLAIR TO A WORLD OF DISHES
FRESH MANGO TOPPINGS ADD FLAVOR, COLOR AND FLAIR TO A WORLD OF DISHES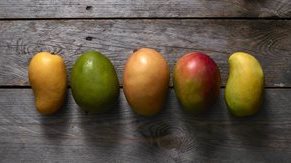 Posted On: July 14, 2017
Fresh mango offers operators the golden opportunity to finish a world of dishes with distinctive flavor, color and flair. The popularity of mango knows no boundaries, making it the ideal ingredient to top the 
Mango Pig Pizza
 and 
Mango Goat Cheese Salad
 at
 zpizza
, 
Mango Pulled Pork Street Tacos
 at 
Marie Callender's
, and the trending 
Fresh Mango Toast
 at 
Morrison's
.
The National Mango Board offers a selection of innovative mango toppings to gild seasonal specials. For 
Grilled Bratwurst with Mango Relish
, tossing mango cubes with coarse grain mustard and thyme results in an unexpected and pleasing flavor jolt. 
Chef Allen's Tropical Mango Chutney
 provides a versatile, sweet-hot finish for grilled proteins or deliciously tops curries and dosas.
No longer an exotic import, most operators are familiar with mango varieties and prep techniques; ensuring maximum fruit yield to incorporate fresh mango in beverages, salads, condiments and relishes, entrees, sides, desserts and toppings. For more mango recipes, as well as the tools and resources to build your business with mango, visit 
mango.org/foodservice
.
Download the full release here.
About the National Mango Board
The 
National Mango Board
 is an agriculture promotion group supported by assessments from both domestic and imported mangos. The board's vision, to bring the world's love of mangos to the U.S., was designed to drive awareness and consumption of fresh mangos in the U.S. marketplace. One cup of the superfruit mango contains 100 calories, 100% of daily vitamin C, 35% of daily vitamin A, 12% of daily fiber, and an amazing source of tropical flavor. Learn more at 
mango.org
.