Since 2005, the National Mango Board has strived to support the mango industry through innovative marketing campaigns, important research projects, and direct industry outreach. These efforts have been recognized by a number of organizations through the years. Read on to see the awards the NMB team has received.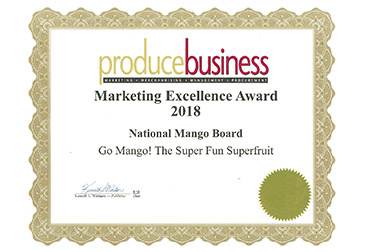 Produce Business Marketing Excellence Award
For twelve years, the National Mango Board has won the Produce Business Marketing Excellence Award for consistently executing creative marketing campaigns year after year that deliver results and drive mango consumption.
2020 - The Mango Tribe
2019 - The Mango Store
2017 - Mangos as a Cultural Icon
2016 - Scoring Mangoooals for the Win!
2015 - Cooking with Mangos Foodservice
2014 - Mangover Celebrations, Consumer Marketing Promotion
2013 - Red Mango, Foodservice Branded Chain Promotion
2012 - Mango Hometown Tour
2011 - Virtual Test Kitchen
2010 - Holidays with Latin Flair
2009 - Rising Mango Star Video Contest

PMG's Best of 2021: Great Rebranding
The National Mango Board was recognized by PMG, A Product of The Packer, for great rebranding. The board was recognized for their efforts in re-examining the brand focus during the past year – reflecting and retooling the logos, websites, packaging and looks.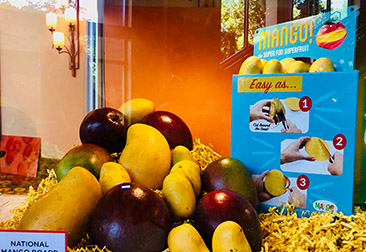 2019 Viva Fresh Gateway To Innovation Award
The National Mango Board placed third in the 2019 Viva Fresh Gateway to Innovation Awards for its new retail bins that bring the "Super Fun Superfruit" branding to stores across the country.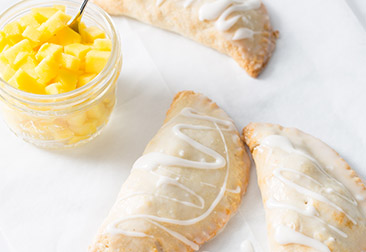 2019 United Fresh Produce Excellence in Foodservice Awards Program
Chef Jeffrey Quasha, Corporate Executive R & D Chef, Morrison Healthcare, Savannah, GA was honored by United Fresh for his work to bring fresh produce to hospitals. Chef Quasha was nominated by the National Mango Board for the Morrison Healthcare mango promotion in 2018, which included a fresh mango "no fry" hand pie on the menu.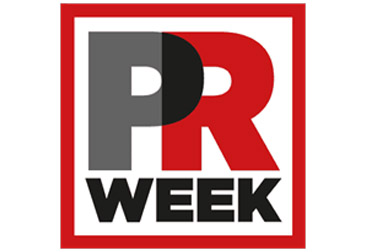 2014 Prweek Awards - Honorable Mention
The National Mango Board and PR agency FleishmanHillard were recognized by PRWeek as an honorable mention for the 2014 Product Brand Development Campaign of the Year.