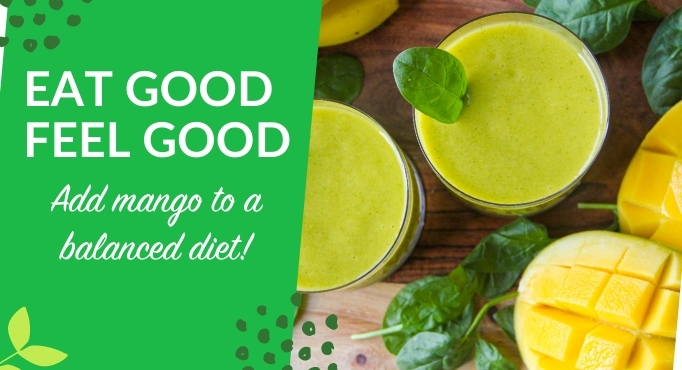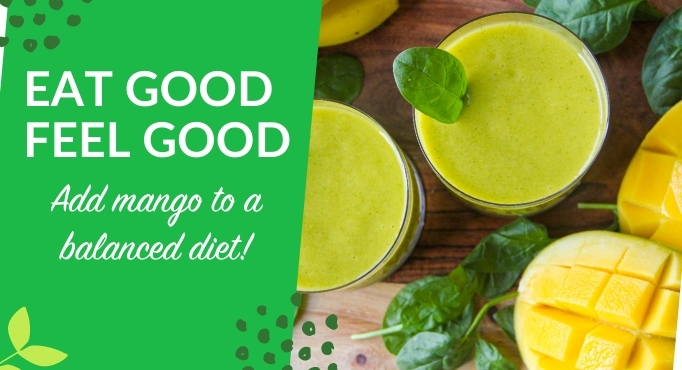 A balanced diet is essential to good health. Mango is an extremely versatile fruit that adds important nutrients and delicious flavor to the gamut of different meal and snacking occasions. Did you know that mango can be used in both sweet and savory dishes? The ripeness level of mango determines its sweetness and mango can also be consumed unripe for a tarter flavor.
Mangos contain over 20 different vitamins and minerals, helping to make them a superfood that you can add to your plans (and shopping list) for a healthy diet.
Mango is an excellent source of Vitamin C, which plays an important role in immune function. One serving (¾ cup or 124g) of mango pieces provides 50% of the daily value of Vitamin C.
One serving of mango is also a good source of folate, which helps the body make red blood cells and DNA, and supports healthy cardiovascular function. A serving of mango provides 15% of your daily folate requirements.
One serving of mango also provides 2g of fiber, which slows the absorption of sugar into the bloodstream and makes you feel full faster and therefore may help support weight management. A serving of mango provides 7% of your daily fiber needs.
Here are 3 mango recipes to incorporate into your plans for eating right.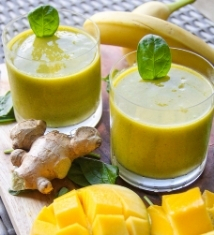 Ginger adds the zing, spinach adds the green to this delicious mango smoothie that's perfect for a quick and healthy breakfast.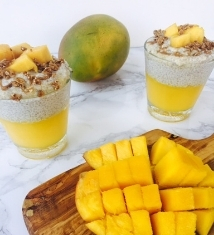 Mango, chia seeds and coconut milk come together to make a tasty and nutritious snack that the entire family will enjoy. To learn more about the benefit of mango for children, check out this featured blog.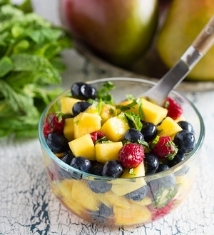 Mango, raspberries and blueberries make this flavorful salad perfect for a wholesome, anytime snack. One serving of mango is an excellent source of vitamin C, which plays an important role in supporting healthy immune function.
You can feel good about adding mangos to a well-balanced diet.
Discover more great mango recipe ideas and get mango nutrition resources for nutrition professionals.