Mango Citrus Fruit Punch
PREP TIME10 minutes

COOK TIME

TOTAL TIME

SERVINGS6
Recipe submitted by Jocelyn Delk Adams, Grandbaby Cakes
Ingredients
4 heaping cups cubed fresh mango (2 large mangos)
1 cup fresh squeezed orange juice without pulp
1¼ cups granulated sugar
2 cups pineapple juice
5 cups lemon lime soda
PREP TIME 10 minutes

COOK TIME

TOTAL TIME

SERVINGS6
Recipe submitted by Jocelyn Delk Adams, Grandbaby Cakes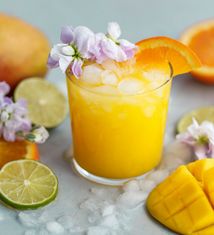 Instructions
Add fresh mango, pineapple juice and orange juice to a blender and mix until completely smooth.

Next add mango mixture to a pitcher along with soda and sugar and mix until smooth.

Serve over ice.

Note on sugar: This amount can and will change depending on the ripeness of your mango. If the mango is super ripe and sweet, add less. If it is less so, use more sugar.