Succulent Shrimp Fresh Mango Shooters
PREP TIME20 minutes

COOK TIME12 minutes

TOTAL TIME32 minutes

SERVINGS8
Recipe courtesy of Isha Nije, FLIK, Compass Group, Hazel Park, MI
Succulent Shrimp Fresh Mango Shooters
Ingredients
1-2 fully ripe mangos (about 1 pound to yield 1 cup puree)
Juice and zest of one lime
Sea salt
raw medium shrimp (41/50 count)
1 tsp Sichuan pepper or black peppercorns, crushed
1 tbsp fennel seed, crushed
2 tbsp olive oil
1  large clove garlic, minced
1 tsp finely grated fresh ginger
1 pinch sea salt
Diced ripe mango, 8-16 pieces, as needed
Zest of 1 lime, for garnish, optional
Fresh basil or mint leaves, for garnish, optional
PREP TIME 20 minutes

COOK TIME12 minutes

TOTAL TIME32 minutes

SERVINGS8
Recipe courtesy of Isha Nije, FLIK, Compass Group, Hazel Park, MI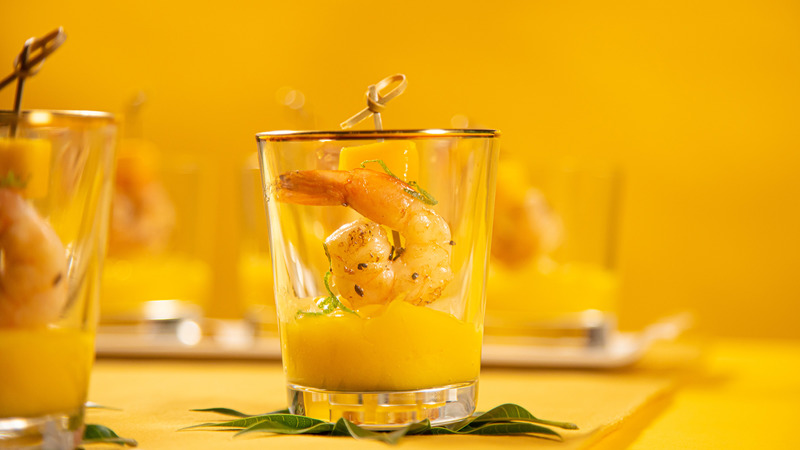 Instructions
Peel the mangos and cut the fruit away from the seed. Coarsely chop and blend until smooth. Season puree with lime juice and a generous pinch of sea salt. Set aside.

Shell the shrimp, keeping only the tail intact. Refrigerate until ready to cook.

In a large skillet, over medium heat, toast pepper and fennel in olive oil until the mixture becomes fragrant. Add shrimp and sauté in the spice mixture, stirring regularly, until cooked through, 8-10 minutes. When shrimp is cooked, add garlic, ginger and a sprinkling of salt to the pan. Continue cooking and stirring for 2 minutes, then let cool to room temp.

Place 1-2 mango cubes and 1-2 shrimp on a pick, repeat to make 8 picks; and set aside. Spoon or pipe 2 tablespoons mango puree into mini glasses and top with picked mango and shrimp. Garnish with lime zest and fresh herbs.