Heat in the Fall Mocktail
PREP TIME

COOK TIME

TOTAL TIME

SERVINGS0
Recipe by Tony Pereyra, Bar & Beverage Solutions, The Spirits in Motion
Heat in the Fall Mocktail
Ingredients
5-6 fresh mango cubes
2 oz fresh agave lime
1 oz Chipotle Syrup, recipe follows
.5 oz apple cider vinegar
Ginger beer or sparkling water
Garnish: dehydrated lime, fresh ginger slice, firestick (flower)
For the Chipotle Syrup:
8 oz white cane sugar
8 oz water
¾ cup dried chile arbol
PREP TIME

COOK TIME

TOTAL TIME

SERVINGS0
Recipe by Tony Pereyra, Bar & Beverage Solutions, The Spirits in Motion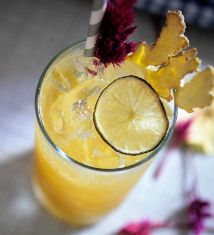 Instructions
In a mixing glass, muddle fresh mango, fresh agave lime, and Chipotle Syrup 2-3 times. Add remaining ingredients to mixing glass (EXCEPT GINGER BEER), and shake well. Strain over fresh ice. Complete with ginger beer and garnish.
For the Chipotle Syrup:
Combine sugar and water and mix until dissolved. Add Dried Chile Arbol and let sit for 24 hours. Or sous vide for 1-1/2 hours and let cool.