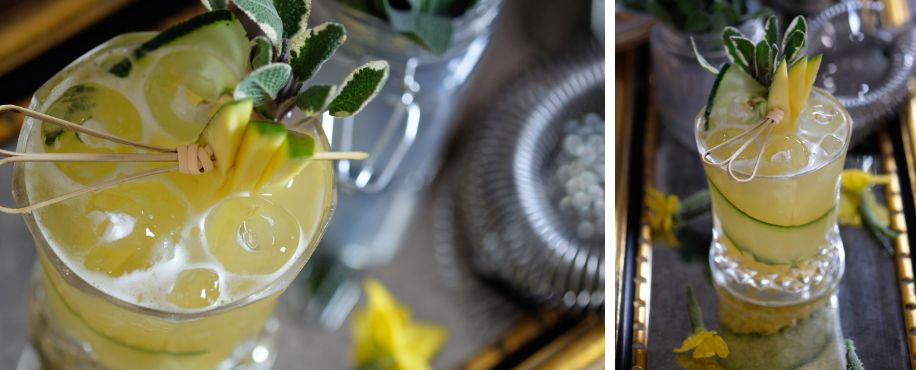 INGREDIENTS
2 oz Reposado Tequila or preferred brand
4-6 large fresh mango cubes
1 oz Cucumber-Chile Shrub, recipe follows
1 oz fresh lime juice
.5 oz agave nectar
2 sage sprigs
Garnish: fresh mango slice fan, long cucumber peel, sage sprig
For the Cucumber-Chile Shrub:
2 cups roughly chopped fresh cucumber
2 cups white cane sugar, or preferred sugar
1 cup dried chile de arbol
2 cups white balsamic vinegar, Champagne or rice vinegar will also work
In a mixing glass, muddle fresh mango, sage, and agave nectar 2-3 times. Combine remaining ingredients in a mixing glass. Shake well, strain over fresh ice. Garnish.
For the Cucumber-Chile Shrub:
Combine cucumber, sugar and chile arbol and let sit at room temperature until sugar dissolves and sugar turns into liquid, 24 to 48 hours. Add vinegar and let sit for additional 12 to 24 hours, depending on desired flavor. Strain out all solids.
Recipe by Tony Pereyra, Bar & Beverage Solutions, The Spirits in Motion