Mango Spritz
PREP TIME5 minutes

COOK TIME

TOTAL TIME

SERVINGS1
Ingredients
Cinnamon Simple Syrup
1 cup Sugar
1 cup Water
4 Cinnamon Sticks
Mango Spritz Cocktail
1 Mango
2 oz Cinnamon Simple Syrup
3 tbsp Water
1/2 cup Crushed Ice
4 Fresh Basil sprigs
4-6 oz Chilled Prosecco
Mango Slices, for garnish
PREP TIME 5 minutes

COOK TIME

TOTAL TIME

SERVINGS1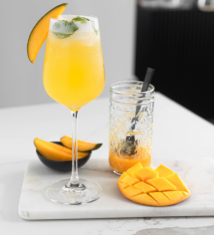 Instructions
Cinnamon Maple Syrup
In a small saucepan over medium-high heat, combine the sugar and water and bring to a boil until the sugar dissolves. Add in the cinnamon sticks, reduce the heat to low, and simmer for 15-20 minutes.

Remove the saucepan from the heat and strain the syrup into a heat proof container. Allow the syrup to cool before using.
Mango Spritz Cocktail
Using a sharp knife cut the mango on both sides and into chunks using the method described above then scoop the mango into a blender. Pour in the cinnamon simple syrup and water, then blend on low until the puree is smooth.

Add the ice to a wine or spritz glass, add in the basil, and spoon 3 tablespoons of the mango puree into the glass. Top with the chilled Prosecco and garnish with 1 or 2 slices of mango.