Mango Biche Lemonade Frappe
PREP TIME20 minutes

COOK TIME5 minutes

TOTAL TIME

SERVINGS2
Recipe courtesy of Chef Dave Woolley, CD Culinary Approach
Mango Biche Lemonade Frappe
Ingredients
16 ounces Green (under ripe) Mango, peeled and cut into chunks
1 ounce Lime Juice, fresh squeezed
1/8 tsp Lime Zest
2 Fresh Mint Leaves
2 ounces Agave Simple Syrup (3:1 or 3 oz water to 1 oz agave nectar)
1 cup Ice Cubes
Kosher Salt, for rim
2 each Lime Wheels, for garnish
PREP TIME 20 minutes

COOK TIME5 minutes

TOTAL TIME

SERVINGS2
Recipe courtesy of Chef Dave Woolley, CD Culinary Approach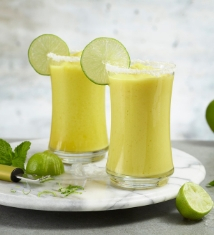 Instructions
In blender, add all ingredients but the salt and lime circle garnish and blend well. Add more ice if necessary to reach a slushy consistency.

Pour into a salt rimmed glass, garnish with lime wheel and serve immediately.

Notes on green mango (mango biche): Mangos are grown to full maturity on the tree before being harvested, and can be used across the ripeness spectrum. A green mango, stage 2-3, is similar in flavor and texture to a freshly picked crisp, tart green apple – in contrast to a ripe mango, stage 4-5, that is sweet and juicy like a ripe peach. For this recipe use a mango at green/firm stage 2-3.  Mangos at the green stage often show more color in the flesh. We recommend using as peeler to remove skin, then carefully cut enough off the stem end to create a base and cut around the seed, starting with removing the cheeks on each side of the seed.