Summer Staycation: Let's take a trip to South America and more!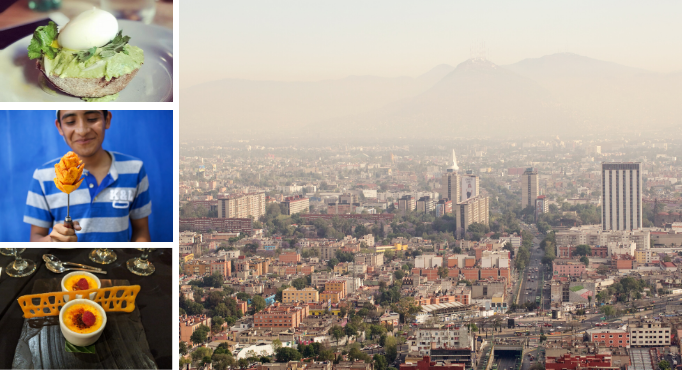 Did you know that mangos are the most popular fruit in the world? That's right! Mangos are grown and eaten across the world with each place encompassing its own unique mango culture. Although many of us are putting a pause on travel this year, there's nothing stopping us from celebrating the diverse nature this tropical fruit exudes. This summer we'll be taking you on a virtual vacation to special spots around the globe where we'll sight see, highlight regional dishes, and get to know the natives.
Grab your sandals and embrace your wanderlust because we're setting sail to the Islands of Aloha as our first stop.
Aloha from Hawai'i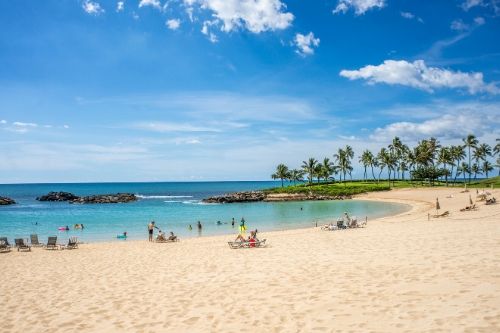 Some may know Hawai'i for its sandy beaches, clear blue waters or luau celebrations, but Hawaiians also share a genuine love and appreciation for mango! Most locals grow up with a mango tree in the backyard and reminisce on childhood memories of eating the fresh, juicy fruit out of the palms of their hands. Mangos bring a sweet touch of life in Hawai'i and gives way to the Aloha spirit.
If you're in search of the tropical fruit, Hawaiians assure the best place to look are local farmer's markets. Shoppers rise early to get their first pick of fresh produce, flowers, ready-to-eat cuisines and more!
Get to Know Hawaiian Local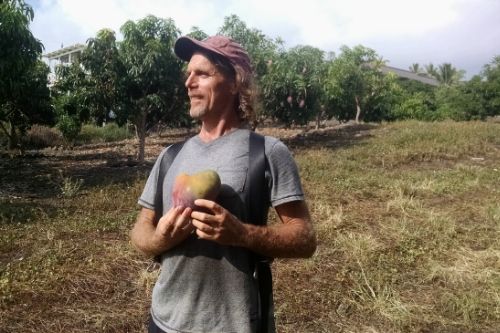 Did you know, according to Island folklore, if you plant a mango tree in your front yard you are welcoming people to visit? And when you plant it in the backyard, you are more private. Well, Stuart Johnson owns a farm of mango trees and is ready to welcome all that visit!
Stuart has lived on the Big Island of Hawaii for 20 years. When he first saw beautiful mangos in a packing warehouse, he knew he wanted to be more involved. So, he decided to start his own mango business 15 years ago. He mentions the most popular variety is Haden, and he loves when travelers from the mainland have a sample. The best part is seeing their eyes light up with joy as they taste this delicious, sweet fruit.
Stuart says, "the Hawaiian culture loves its mango. Whether eaten green with shoyu vinegar and chilis or shared from a backyard tree to a neighbor, this summer fruit is a local favorite. My hands have harvested over 500K pounds; however, each mango is unique and special to me. Hawaiian mango is blessed by Akua (God), and through the rains and sun, we work the land(iana) till our day is done."
Although the Islands of Hawai'i may be small, it carries a big heart.
Varietals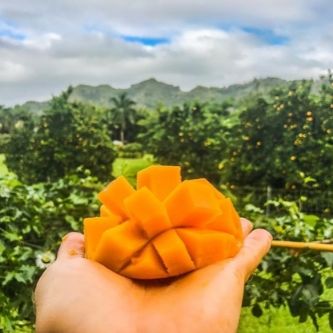 Ben and Jerry's may have over 60 ice cream flavors, but the islands of Hawai'i flourish with over 500 mango varieties, with Haden, Rapoza, and Pirie being the most widespread. From May to October a fruit frenzy takes over and mango season begins to set into the landscape. Many mango strains are unique to certain areas of the Aloha State with each variety containing a distinctive flavor, appearance, and texture.
Learn more about the main varieties available near you here.
Recipes from a Mango Paradise
While many eat the fruit fresh as is, mangos are also used in several Hawaiian dishes including sauces, salsa, cheesecake, ice cream and pickles. Similarly, chefs in Hawai'i are known for utilizing mangos while in season to create seasonal menu selections.
Here are some recipes for you to experience the taste of paradise.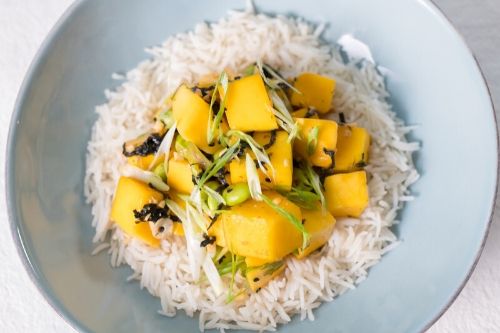 Poke bowls are a main dish of native Hawaiian cuisine. You'll find many variations of this Hawaiian favorite when you visit restaurants and grocery stores across the islands.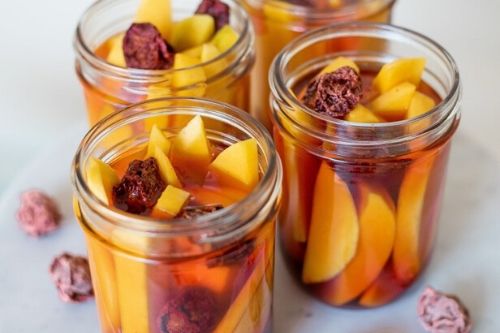 Recipe by Wanderlustyle
Pickled mango is also very popular in the region and it's made with simple ingredients! It brings a flavor kick to the mouth but balanced with sweet and sour notes.
For another twist on this traditional dish, check out our Bread and Butter Mango Green Mango Pickles here.
Buen Dia en Mexico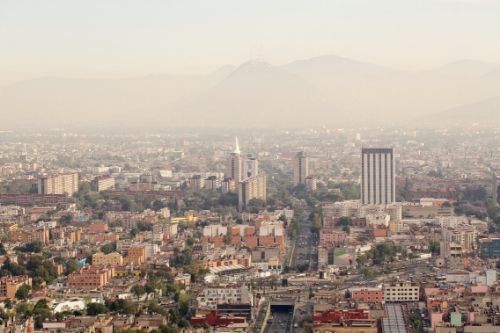 If you've ever enjoyed a juicy, ripe mango, you probably have Mexico to thank! While mangos are distributed from a variety of countries to the United States, Mexico is the largest importer. Moreover, when it comes to mangos, the superfruit is entrenched in Mexican culture and is as common as apples are to the U.S.
Mexicans enjoy many varieties of mangos, which make their way into the markets throughout most of the year. Their favorite way to eat mangos is to peel and eat without even slicing them. Although some varieties don't make it up to the U.S, many varieties do travel well. For example, the Honey variety (Ataulfo) is easy to find in local grocery stores throughout the U.S during peak availability.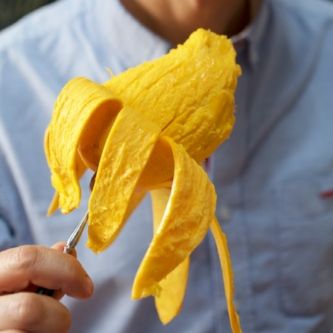 Mango Fondly Remembered in Mexico
We caught up with Manuel Michel, Executive Director of the National Mango Board, and he takes us back to when he first tasted mango.
"My heritage is Mexican and growing up my parents would take us to visit my grandparents every couple of years.  On one of those trips was when I was around 5 or 6 years old, my grandmother shared with me that her favorite fruit was mango. I had not tried mango before, so she introduced me to it. My experience of tasting a fully ripe mango for the first time was amazing and it immediately became my favorite fruit as well!

Last year I visited Morelia, Michoacán, this part of Mexico has a unique way of preparing mango in a fruit salad they call "gazpacho". First, they finely chop sweet fruits like mango, pineapple, watermelon, and mix in jicama, cucumber, and onion. Then, they add salt, chile powder, crumbled cheese, and citrus juice (orange and/or lime). The resulting flavor combination is an incredible flavor experience like no other that makes your taste buds erupt with every spoon!"
In the Streets of Mexico City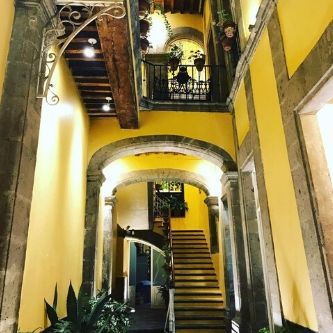 You'll find that many vendors sell mangos in street markets and carts all around Mexico City. Some of the best mango stories come from the hearts of mango street vendors, many of whom have been selling mangos for their entire careers.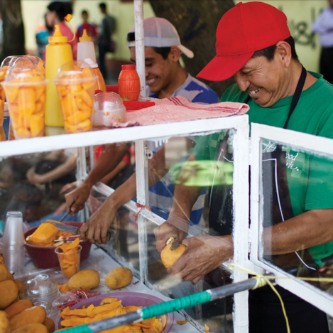 Sidewalks are decorated with traditional street foods that fill the air with aromatic delightful bites. On street corners, fresh fruit are a plenty too. You'll find gold-fleshed, perfectly ripe mangos as an irresistible and nourishing treat. They are sold directly from carts in a variety of ways. And as you taste your way through the city, you'll notice that mangos show up in other dishes, such as paletas (popsicles), helados (ice creams), macaroons, candies, and simple dried fruit snacks. Wherever you turn, you find mango!
Mango flowers can also be found in Mexico City. Street vendors carve the fresh fruit from a stick, resembling petals of a flower and sprinkle a bit of lime, salt, and chili powder on top.
On the Table
The mango is quite compatible with the spice and complexity of Mexican flavors. Its taste complements many traditional dishes in the region. Here's a few mango-inspired recipes to bring the fiesta to your casa.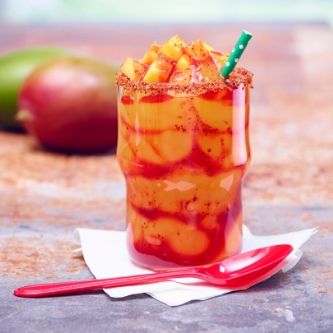 This traditional Mexican drink is a perfect blend of spicy and sweet.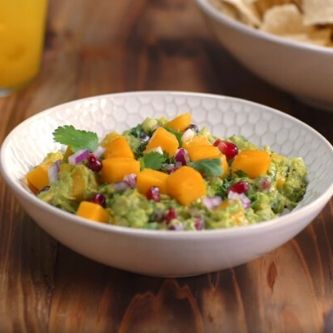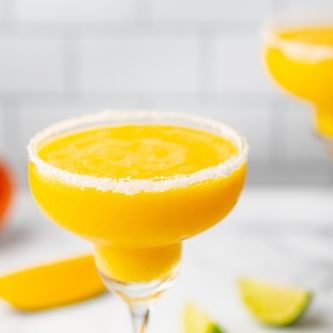 Tacos, Tacos, and even more Tacos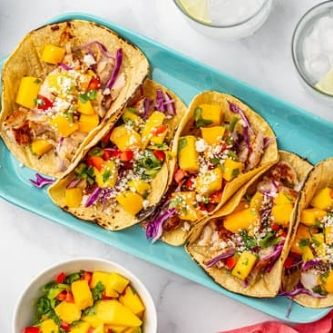 Hola, Ecuador
 
Ecuador is known for being located on the equator, which runs through the entire country, creating a warm, tropical climate perfect for growing mangos. The South American country grows four of the most common varieties of mango found in the U.S.: Honey, Haden, Kent and Tommy Atkins. Along with the various mangos grown in the area, it also has a diverse landscape that runs through the Amazon jungle, Andean highlands to the Galápagos Islands that's enriched with wildlife.
From the Farm to the Fruit Stand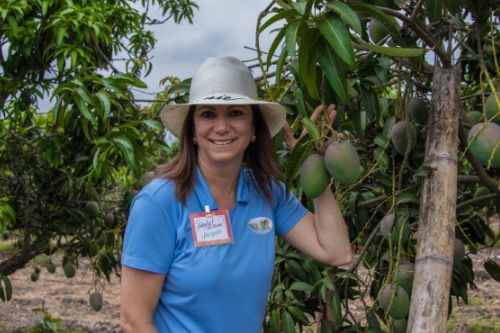 Jacquie Swett, a mango producer in Guayaquil, Ecuador, has been running the family farm for over a decade. As a young girl, she fondly recalls climbing up and picking mangos from the trees, peeling them with her teeth and enjoying the luscious fruit. Now that she's a professional in the field of agriculture in mango cultivation, she loves the thought of mangos harvested from her trees being savored by a person in another part of the world.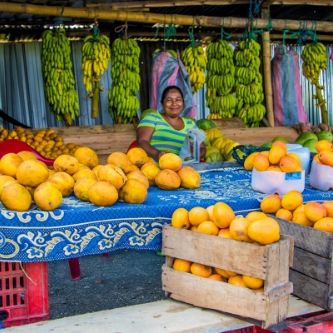 Not only are the mangos exported to other parts of the world to be consumed, but you can also find them at local fruit stands in cities and small towns across Ecuador. Many of the food markets can be a bit tucked away for tourists to find, however, some of the most delicious fruits, vegetables, poultry, and meats can be found throughout this country.
Dining Out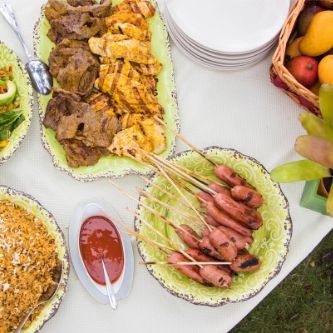 Ecuadorian specialties vary depending on which part of the country you find yourself in, but one thing's for sure you'll find something to satisfy your taste buds! As you can imagine, food is a huge part of Ecuadorian life and with such rich history at its core, dining out in this country is the foremost way visitors are welcomed. What would you choose from this mangotastic menu?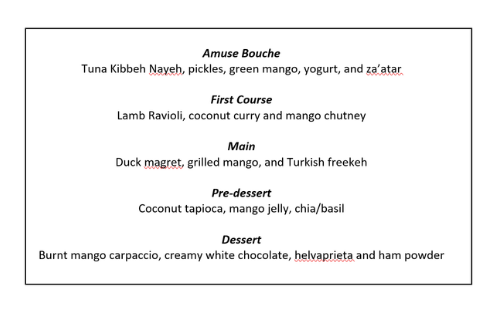 Bienvenido a Peru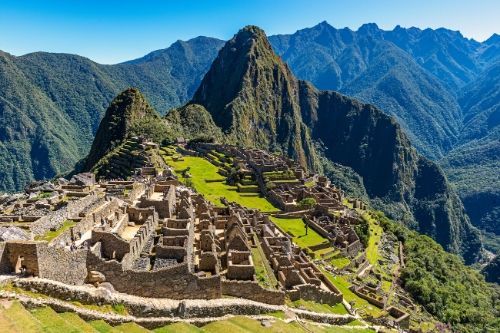 Inca ruins in Machu Picchu
From downtown Lima to the sublime Inca citadel of Machu Picchu, this expansive country brings nirvana to the active traveler. 5000-year Peruvian history lay visible in the ancient ruins and true adventure is fused with great geographic and cultural diversity.
Peru has over 59,000 acres of mango plantations along its coast and exports more than 70,000 tons of mangos each year across the world. Making them the second largest supplier of mangos to the United States.
Más Ceviche Por Favor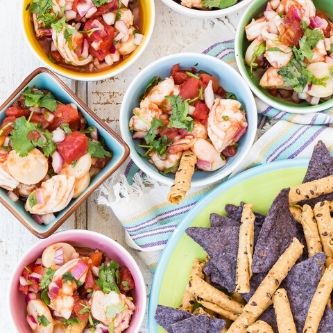 Whether you're the kind of adventurer that seeks thrill through paragliding in Lima or prefers to hike the trails of the Amazon rain forest, one important question remains–what to eat? Ceviche, of course! This traditional Peruvian dish can be found just about everywhere you go throughout the country and is nothing short of delicious.
To have a taste of Peru you must have a bite of ceviche. This national dish will bring happiness to your palette with its zesty, tangy goodness! Here's some mangolicious recipes to try: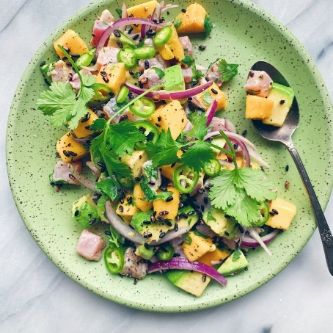 Plant-Based Mango-Coconut Ceviche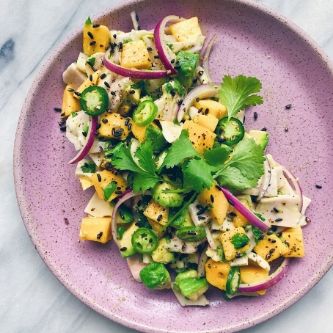 Visitar Guatemala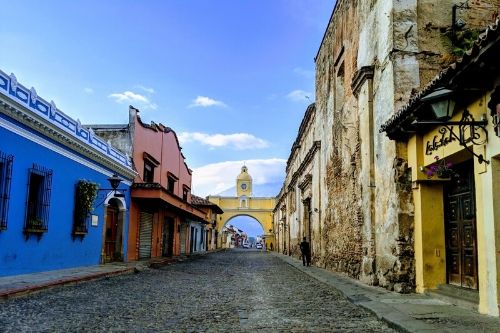 Santa Catalina Arch on 5th Avenue in Antigua, Guatemala
Guatemala is a small country bursting with rich ancestral history that goes back to the Mayan civilization, in which the traditions and culture of its people remain even to this day. It is a unique country where you'll find yourself immersed in the past and present from charming small towns, grumbling volcanoes, and picturesque lakes. Known as the country of endless spring, anytime of the year is the perfect time to visit.
Take a Tour of a Mango Farm in Champerico, Guatemala
Until Next Time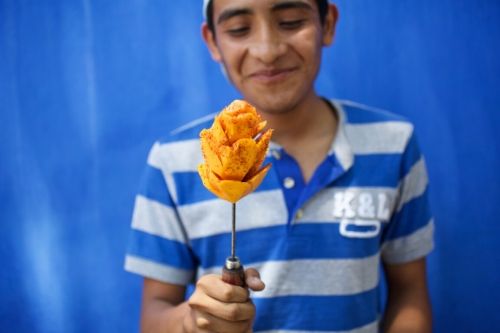 We hope you enjoyed this little mango escape. For many, biting into this juicy fruit is a happy memory that reminds us of family, love, and travel. These experiences occur around the world and bond many cultures and cuisines together. Be sure to join us next month as we jet to the sunny side of the Caribbean!