Bread & Butter Green Mango Pickles
PREP TIME

COOK TIME

TOTAL TIME

SERVINGS0
Bread & Butter Green Mango Pickles
Ingredients
6 green (unripe) mangos – peeled, cut into quarters with pit then pit removed with fingers and sliced into 1/2 inch thick and slightly curved "spears"
4 tbsp kosher salt
1½ cups of water
2½ cup white distilled vinegar
1 cup sugar
4 cloves of garlic - peeled
4 tsp yellow mustard seeds
4 tsp celery seeds dived
4 tbsp black peppercorns
PREP TIME

COOK TIME

TOTAL TIME

SERVINGS0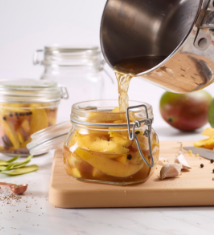 Instructions
Wash 4 ea. 1-pint mason jars and lids - wash with hot soapy water and air dry.

Stir together over a medium heat the vinegar, kosher salt and sugar. Stir until salt and sugar are dissolved. Add water to the vinegar, salt and sugar mixture and keep simmering.

Add the green mango spears upright and divided between the 4 mason jars with clean hands. You want to completely fill the jar - so pack those spears are in there tight. Then slip in to each jar - one garlic clove, 1 tsp. of each spice and 1 tbsp. of black peppercorns to the top of each Mason jar.

Pour hot vinegar brine into each Mason jar, fill the jar up so that all the upright mango spears are covered with the brine. Screw on the mason jars lids, tap the jars lightly to release any air bubbles and put the mason jars in the refrigerator and sit 1 week - then open up the jar and enjoy a Green Mango Bread & Butter Pickle!