Honey Grilled Fruit with Lime-Mint Vinaigrette
PREP TIME20 minutes

COOK TIME10 minutes

TOTAL TIME

SERVINGS8
Honey Grilled Fruit with Lime-Mint Vinaigrette
Ingredients
Lime Mint Vinagrette
2 Tbsp Fresh Lime Juice
1 Tbsp Olive Oil
2 Tsp Honey
1 Tsp Finely Chopped Fresh Mint
Honey Grilled Fruit
3 Large Firm but Ripe Mangos
1 Large Peach
2 Plums
1 Tbsp Fresh Lime Juice
½ Tsp Cinnamon
Mascarpone Cheese
PREP TIME 20 minutes

COOK TIME10 minutes

TOTAL TIME

SERVINGS8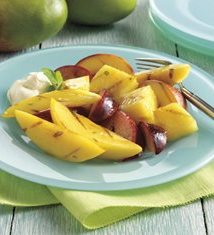 Instructions
For the Vinagrette:
Whisk together vinaigrette ingredients in a small bowl; cover and refrigerate until ready to serve. 
For the Fruit:
Whisk together honey, lime juice and cinnamon.

Grill all fruit over medium heat for a few minutes on each side or until grill marks appear basting with honey mixture several times.

Remove from grill and place in a large bowl; let cool and chop pineapple into large chunks. 

Place grilled fruit back into bowl, add vinaigrette and toss lightly to coat.

Cover and refrigerate for at least 1 hour, stirring several times. 

Transfer to salad bowls or plates and top each with a dollop of mascarpone cheese.