Mango, Ricotta & Prosciutto Galette
PREP TIME40 minutes

COOK TIME30 minutes

TOTAL TIME

SERVINGS0
Recipe courtesy of Chef Jason Seibert, Northern Tiger, New York, NY
Mango, Ricotta & Prosciutto Galette
Ingredients
Dough
3 tbsp sour cream
1/3 cup ice water
1/4 cup cornmeal
1 cup unbleached white flour
1/2 tsp white sugar
1 tsp kosher salt
1/2 tsp fresh ground black pepper
1/4 tsp finely grated lemon zest
7 tbsp ice cold butter, diced small
Unbleached white flour (for dusting the table while rolling dough)
Ricotta Cheese Filling
1 cup ricotta cheese
2 egg yolks, beaten
1 tsp fresh thyme leaves, chopped fine
1 tsp Italian parsley, chopped fine
1/2 tsp kosher salt
1/4 tsp fresh ground black pepper
Toppings
1 large ripe mango, peeled, quartered and thinly sliced
1/2 tsp smoked paprika
Kosher salt
1 oz arugula
1 tsp fresh squeezed lemon juice
1 tsp virgin olive oil
Ground black pepper
3 oz prosciutto, thinly sliced
1 oz shaved Parmesan
PREP TIME 40 minutes

COOK TIME30 minutes

TOTAL TIME

SERVINGS0
Recipe courtesy of Chef Jason Seibert, Northern Tiger, New York, NY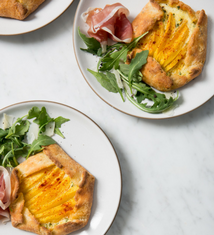 Instructions
Mix sour cream and ice water together in a food processor fitted with a metal blade. Add the dry ingredients and lemon zest. Process 10 seconds to combine. Drop the butter pieces into the bowl and pulse 10 times. Remove and knead gently by hand until a soft ball of dough forms. The dough should be speckled with pieces of butter. Wrap with plastic cellophane and let rest, refrigerated at least 2 hours (or up to 3 days).

In a small bowl, mix ricotta, egg yolks, herbs, salt and pepper. Reserve.

Preheat oven to 400 degrees F. Line a baking sheet with parchment paper and lightly dust with flour. 

Take the chilled, rested dough and cut into quarters. On a floured work surface, roll dough into 4 round disks. Each piece should be 6 inches in diameter. Move discs to the prepared baking sheet.

Spoon ¼ cup of ricotta mixture on the middle of each disk, reserving a 1½ inch border. Fan the mango slices over ricotta. Dust mango with smoked paprika and a pinch of sea salt.

Fold the uncovered border of dough over the filling, forming pleats, and leave approximately 3 inches of the filling exposed. Brush the exposed dough lightly with water and sprinkle the with an additional pinch of salt.

Bake 20-30 minutes, until crust is golden brown. Remove from oven and transfer to a baking rack. Let cool 15 minutes.

To serve: Warm the galette slightly before serving. Toss the arugula with the lemon juice and olive oil. Season to taste with salt and black pepper. Top galettes with arugula, prosciutto and shaved Parmesan.