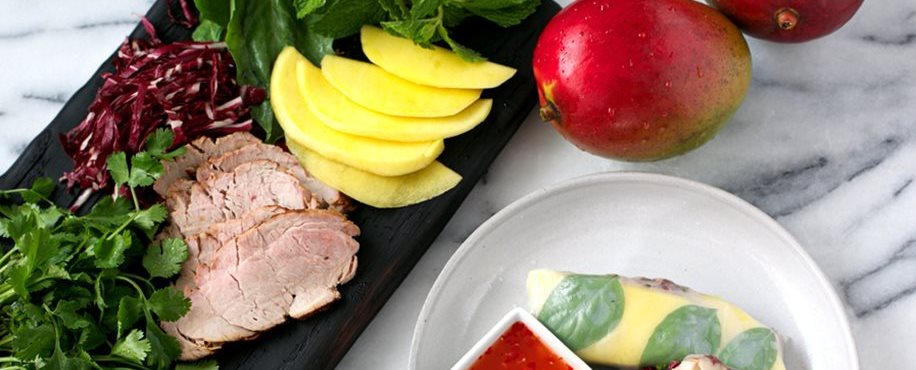 INGREDIENTS
Spring Rolls
¼ cup low-sodium soy sauce
1 tablespoon brown sugar
2 teaspoons fresh ginger, grated
1 clove garlic, minced
1 to 1 1/2 pound pork tenderloin
1 tablespoon canola oil
12 (8-inch) spring roll rice wrappers
1 large ripe mango, peeled and sliced thin
1 bunch basil
1 bunch cilantro
1 bunch mint
1 cup red cabbage, thinly shredded
Dipping Sauce
¼ cup unseasoned rice vinegar
3 tablespoons honey
1 tablespoon lime juice
2 teaspoons garlic-red chili paste
1 teaspoon fresh ginger, grated
1 teaspoon fish sauce
In a dish, combine soy sauce, sugar, ginger and garlic. Add tenderloin and turn to coat in marinade. Cover and refrigerate for at least 1 hour to overnight.

Preheat oven to 425°F. Heat oil in a large ovenproof skillet over high heat and sear the tenderloin until browned, about 2 minutes a side. Transfer skillet to the oven and roast for 25 to 30 minutes, until internal temperature of the pork reaches 145°F. Allow tenderloin to cool completely in the refrigerator, then slice as thin as possible.

Fill a shallow dish with warm water. Submerge one spring roll wrapper in water. Once the wrapper becomes soft (about 2 minutes), remove it from the water and lay flat on a work surface. Lay 3 basil leaves at the bottom of the wrapper then top with a couple of slices of mango. Top mango with a few slices of tenderloin, then a few leaves of cilantro and mint, and finish with a large pinch of cabbage. Starting at the bottom, fold the wrapper over the ingredients and roll up. Just before finishing, fold the sides inward and finish rolling the wrapper. Repeat with the remaining spring roll wrappers.

To make the dipping sauce, combine all ingredients in a bowl and whisk until combined. Serve with spring rolls.

Note: Spring rolls and sauce can be made a day in advance and stored in the refrigerator until ready to serve.
Nutritional analysis per roll, with sauce: Calories 139; Protein 10 g; Carbohydrates 20 g; Fat 2 g; 4% Calories from Fat; Cholesterol 25 mg; Sodium 301 mg; Potassium 280 mg; Fiber 1 g