Grilled Steak with Mango Salsa
PREP TIME

COOK TIME

TOTAL TIME

SERVINGS4
Grilled Steak with Mango Salsa
Ingredients
1 pound beef round top steak, cut 3/4 inch thick
Salt and pepper
4 cups hot cooked couscous
2 cups sugar snap peas, steamed
Marinade
1/4 cup fresh lime juice
2 tbsp minced green onion
2 tbsp water
2 tsp minced fresh ginger
2 cloves garlic, minced
1/4 tsp salt
Mango Salsa
1½ cups finely diced fresh mango
2 tbsp minced green onion
1 tbsp fresh lime juice
1 tbsp minced fresh cilantro
1 red serrano or red jalapeño pepper, seeded, finely chopped
PREP TIME

COOK TIME

TOTAL TIME

SERVINGS4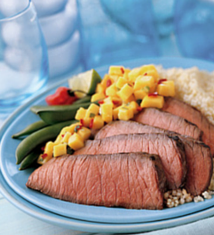 Instructions
Combine marinade ingredients. Place beef steak and marinade in food-safe plastic bag; turn steak to coat. Close bag securely and marinate in refrigerator 6 hours or as long as overnight, turning occasionally.

Just before grilling steak, combine salsa ingredients in medium bowl. Cover and refrigerate until ready to serve.

Remove steak from marinade; discard marinade. Place steak on grid over medium, ash-covered coals. Grill, covered, about 8 to 9 minutes for medium rare doneness, turning occasionally.

Carve steak into thin slices. Season with salt and pepper, as desired. Serve with salsa, couscous and sugar snap peas.