Grilled Chicken Kabob with Mango Tahini Sauce
PREP TIME10 minutes

COOK TIME20 minutes

TOTAL TIME

SERVINGS0
Recipe Submitted By: Matt Robinson, Real Food by Dad
Grilled Chicken Kabob with Mango Tahini Sauce
Ingredients
1 Stalk Lemongrass
2 Tbsp Fish Sauce
1 Tbsp Freshly Squeezed Lime Juice from 1 Lime
2 Tsp Freshly Minced Garlic
2 Tbsp Vegetable Oil
2 Tsp Light Brown Sugar
1 Tbsp Soy Sauce
1 lb Skinless, Boneless Chicken Breasts
Bamboo skewers, soaked in water for about 30 mins prior to use
For Mango Tahini Sauce
2 Mangos
1 Garlic Clove
1 Tbsp Rice Vinegar
2 Tbsp Tahini
1 Tbsp Toasted Sesame Oil
½ Tsp Fresh Grated Ginger
PREP TIME 10 minutes

COOK TIME20 minutes

TOTAL TIME

SERVINGS0
Recipe Submitted By: Matt Robinson, Real Food by Dad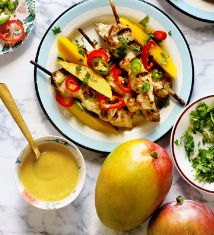 Instructions
To Make Chicken:
In a bowl, vigorously whisk together lemongrass, oil, fish sauce, sugar, lime juice, soy sauce and garlic until smooth and well combined.

Alternately, blend everything in a blender on high for 30 seconds.

Pour marinade in a re-sealable plastic bag and add the chicken. 

Transfer bag to refrigerator and marinate for 1 to 2 hours, turning bag occasionally to marinate evenly.

Remove chicken from the marinade and thread onto wooden skewers.

Turn grill on to high, close the lid and let heat for 10 minutes. 

Open lid and turn heat down to medium high.

Grill the chicken until browned on both sides and cooked through, about three minutes per side.
To Make Mango Tahini Sauce:
Place all ingredients in a blender or food processor and process until smooth.

Serve grilled chicken kabobs with fresh mango spears and mango tahini sauce.

Optional: garnish with cilantro, red jalapeños and Thai chilies.