Mango + Spicy Tofu Bowls
PREP TIME

COOK TIME

TOTAL TIME

SERVINGS0
Ingredients
Spicy + Sweet Mango Dressing
1 Mango, cut
1/2 Lime, juiced
1/4 cup Orange Juice
2 tbsp Honey
1 tsp Ground Cumin
3 Cloves of Garlic
1/3 cup Olive Oil
1 Serrano Pepper, finely diced
3 tbsp Cilantro, finely chopped
Salt, to taste
Pepper, to taste
Spicy Tofu
2 cup Extra Firm Tofu, cubed
1 tbsp Soy Sauce
1/2 tbsp Toasted Sesame Oil
2 tsp Sriracha Seasoning
Salt, to taste
PREP TIME

COOK TIME

TOTAL TIME

SERVINGS0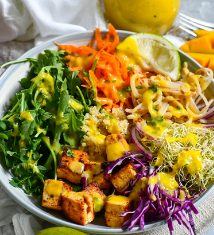 Instructions
Spicy + Sweet Mango Dressing
In a blender add mango, lime juice, orange juice, honey, cumin, garlic and salt. Puree on medium speed until smooth. Transfer to a medium size jar

Add oil to the mixture in the jar in a slow, steady stream while stirring continuously with a fork or small whisk.

Add finely chopped Serrano pepper, cilantro and black pepper. Taste and add a bit more salt, if needed
Spicy Tofu
In a bowl add soy sauce, toasted sesame oil, sriracha seasoning and salt, mix well and add the cubed tofu.

Gently fold in the tofu cubes with the mixture and place on a hot skillet. Cook 1-2 mins on each side until tofu is nice and crispy. Once tofu is lightly brown, transfer onto a plate.
Bowl Assembly
I na large bowl or plate, add in greens of choice, quinoa and veggies of choice for this salad bowl. Add in the spicy tofu and drizzle on the spicy and sweet mango dressing. Enjoy!