Grilled Mango Teriyaki Chicken
PREP TIME

COOK TIME

TOTAL TIME

SERVINGS4
Grilled Mango Teriyaki Chicken
Ingredients
2 lb boneless, skinless chicken thighs
1/2 cup soy sauce
2 mangos
3 garlic cloves
1/2 tsp ginger, grated
2 tbsp water
Cilantro and lime for serving
PREP TIME

COOK TIME

TOTAL TIME

SERVINGS4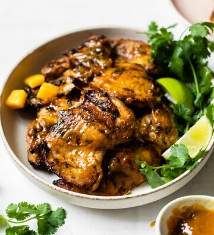 Instructions
Add chicken to a large ziploc bag then set aside.

Add soy sauce, mango, garlic, ginger, and water to a blender (I used my NutriBullet) and pulse until smooth. Reserve a few chunks of mango for plating.

Reserve ¼ cup of the sauce, then pour the rest into the bag with the chicken. Seal the bag shut, then use your hands to move the chicken around so that it's coated in the sauce. Place the chicken and the reserved sauce in the refrigerator for at least 2 hours, but preferably overnight.

To grill: heat grill to 400°. Place chicken on the grill and grill it for 6-7 minutes per side.

Once chicken is done, place it on a plate, then brush it with the reserved sauce. Serve with cilantro and lime, and extra mango chunks on top.