Beef Brisket, Fresh Mozzarella and Mango-Pickled Red Onion Relish on a Baguette
PREP TIME

COOK TIME

TOTAL TIME

SERVINGS0
Source: Addy Bittner, Portland
Beef Brisket, Fresh Mozzarella and Mango-Pickled Red Onion Relish on a Baguette
Ingredients
1 Cascade Natural beef brisket, "nose on"
3 TBSP paprika
1/4 cup sea salt
1 cinnamon stick
1 TBSP pepper
2 TBSP chili powder
10 ripe mangoes, skin and pit removed
5 red onions
3 cups champagne vinegar
20 fresh ovaline mozzarella balls, sliced into 1/4 inch rounds
30 short skinny baguettes from Little T bakery
PREP TIME

COOK TIME

TOTAL TIME

SERVINGS0
Source: Addy Bittner, Portland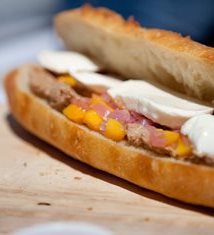 Instructions
Slice the brisket against the grain along the length of it every 4 inches. Put the chunks into a deep rectangular pan along with the spices.

Roast, covered, 4 hours at 250 degrees or until tender and much of the fat renders. Shred the meet loosely with tongs then return to the oven, uncovered, another 1 hour. Drain off most of the fat and taste for salt. Keep warm until ready to serve.

Dice the mango and set aside. Halve the red onions from pole to pole then cut into thin strips vertically. Put them in a pot and cover with the vinegar and three cups water and a generous pinch of salt. Bring to a boil on the stove then set aside to cool. Strain the liquid out and dice the onions, then toss them with the mango. Refrigerate 'til ready to use.

To assemble the sandwiches, slice the baguette lengthwise along one side, leaving a hinge on the other. Lay slices of mozzarella along the bottom of the baguette. Lay 5 oz. of the warm shredded beef on top of that. Spoon the mango/pickle relish to taste over the meat. Gently close the baguette top and bottom together and wrap in parchment, wrapping one end and leaving the other unwrapped. Enjoy!!