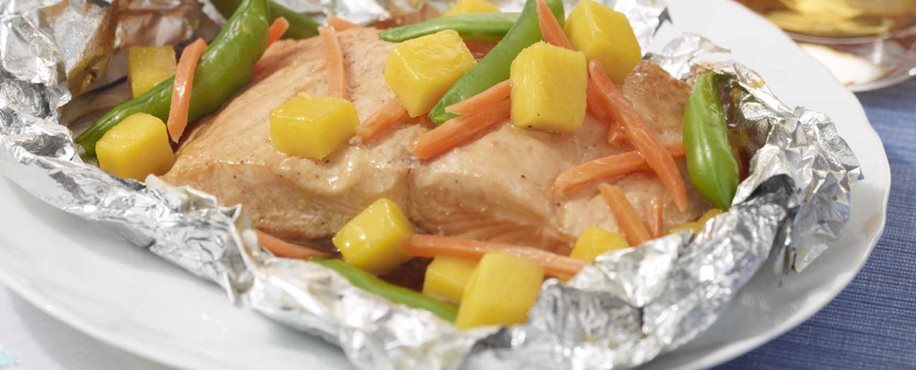 INGREDIENTS
4 salmon fillets, (about 6 ounces each), skin removed
Salt and pepper
1 (1 pound) large mango, peeled, pitted and diced
1 cup (about 4 ounces) matchstick cut carrots
1 cup sugar snap peas (about 4 ounces), stems snapped off and strings removed
1 tablespoon butter, cut into 4 pieces
1 tablespoons soy sauce
1. Preheat oven to 450 degrees. Cut 8 (12-inch) squares of heavy-duty foil. Pat salmon dry and season with salt and pepper.

2. Place 1 piece of salmon on 1 piece of cut foil. Top each with diced mango, carrots and snow peas. Pour 1 tablespoon soy sauce on top of salmon and veggies, top with 1 piece of butter. Place second piece of foil over salmon and veggies. Fold foil pieces together, around all four sides, creating approximately a 7-inch square. Place on rimmed baking sheet and bake for 15 to 20 minutes, depending on desired doneness of salmon.
Note: Your favorite firm white fish such as tilapia can be substituted for salmon. Just purchase same size fillets and follow recipe as follows.
Each serving (1/4 recipe) contains 439 calories, 13 g carbohydrate (4% Daily Value), 2.3 g fiber (9% Daily Value), 37 g protein (74% Daily Value), 26 g fat (40% Daily Value), 7 g saturated fat (35% Daily Value), 101 mg cholesterol (34% Daily Value), 1282 mg sodium (53% Daily Value), and 875 mg potassium (25% Daily Value), 37 mg vitamin C (61% Daily Value), 6001 IU Vitamin A (120% Daily Value), 43 mg calcium (4% Daily Value), 1.4 mg iron (8% Daily Value).