Ayesha Curry's Honey Shrimp and Mango Stir-Fry
PREP TIME10 minutes

COOK TIME10 minutes

TOTAL TIME

SERVINGS4
Ayesha Curry's Honey Shrimp and Mango Stir-Fry
Ingredients
1/3 cup soy sauce
1/4 cup honey
1 tbsp garlic, minced
1/4 tsp red pepper flakes
2 tsp ginger, minced
2 tbsp olive oil
1 cup sugar snap peas
1 cup red and yellow bell pepper, cubed
1 pound jumbo shrimp peeled (16-20 per pound)
1 cup Honey mango, cubed
Salt and pepper to taste
PREP TIME 10 minutes

COOK TIME10 minutes

TOTAL TIME

SERVINGS4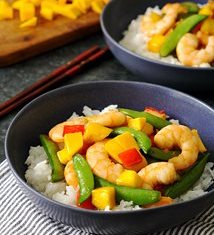 Instructions
In a bowl, whisk together the soy, honey, garlic, red pepper flakes and ginger.

Set aside.

Heat oil in a pan over medium-high heat.

Cook veggies and sauté for about 3 minutes.

Add shrimp and mango.

Cook until shrimp are no longer pink.

Should take about 45 seconds to up to a minute.

Toss with sauce mixture.

Remove from heat.

Cook rice according to instructions.

Serve with jasmine rice.