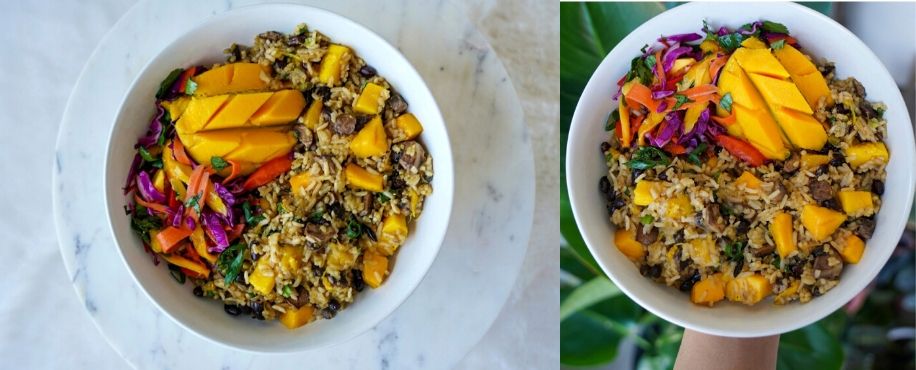 INGREDIENTS
For the mango rice
5 cups cooked jasmine rice
3 ripe mangos, puréed
2 cups mushrooms, chopped*
8 ounces black beans, soaked and rinsed
3 cloves garlic, minced
1 scallion stalk, chopped
2 tablespoons sesame oil
1-2 tablespoons coconut aminos**
1 teaspoon of sea salt
A handful of cilantro, chopped
For the simple slaw***
½ mango, sliced lengthwise
1 red bell pepper, sliced lengthwise
3 medium-sized carrots, shaved
Half small purple cabbage, sliced lengthwise
1-2 tablespoons rice vinegar
1-2 tablespoons sesame oil
A handful of cilantro, chopped
Heat one tablespoon of sesame oil in a pan over medium heat.
Add mushrooms and garlic.
Cook for 2-3 minutes. Remove mushrooms from pan and set aside.
Heat another tablespoon of sesame oil.
Add rice, coconut aminos, black beans, and mango purée.
Cook for 4-5 minutes.
Return cooked mushrooms to the pan with sea salt, scallion, and cilantro.
Cook for one minute. Remove from heat.
Combine red bell pepper, carrots, cabbage, rice vinegar, oil, and cilantro in a bowl. Toss thoroughly.
Serve immediately with mango rice.
*Please note, mushrooms can be swapped for zucchini or eggplant.
**Tamari can be swapped for coconut aminos, depending on what you have on hand.
***Also note that the slaw can be made with vegetables that you have on hand, or simply with the leftover mango.
Serves 4