Orange-Soy Pork Tenderloin with Mango Salsa
PREP TIME5 minutes

COOK TIME45 minutes

TOTAL TIME

SERVINGS6
Orange-Soy Pork Tenderloin with Mango Salsa
Ingredients
Pork Tenderloin
1 Cup Carbonated Orange Soda
1/2 Cup Soy Sauce
1 Tbsp Minced Garlic
1 Tbsp Grated Fresh Ginger
1 Package Pork Tenderloin, 2 Pieces
Mango Salsa
1 Tbsp Honey
Juice of 1 Lime
1/2 Tsp Minced Garlic
2 Medium Ripe Mangos
1/2 Cup Chopped Red Onion
1 Medium Jalapeño
PREP TIME 5 minutes

COOK TIME45 minutes

TOTAL TIME

SERVINGS6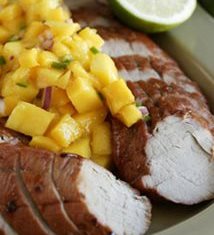 Instructions
For the pork, combine all ingredients in a zip-top plastic bag, squeezing well to distribute garlic and ginger. 

Refrigerate for several hours or overnight.

Preheat grill and when hot, grill pork over hottest part of the grill, turning every 2 to 3 minutes. 

Move to cooler part of grill, cover grill and cook an additional 3 minutes, or until internal temperature reaches 145 degrees for medium or 160 degrees for well done. 

Alternately, the pork tenderloins can be roasted in a 325-degree oven for 45 minutes. 

 For the salsa, combine all ingredients in a medium bowl.

Cover and refrigerate until ready to serve.

Slice the pork on the diagonal and top each serving with some of the salsa.