Mango Shrimp Curry with Mango Cauliflower Rice
PREP TIME

COOK TIME

TOTAL TIME

SERVINGS4
Recipe courtesy of Chef Jason Hernandez of Blade & Tine Culinary Consulting
Mango Shrimp Curry with Mango Cauliflower Rice
Ingredients
Gunpowder seasoning:
1 tbsp Paprika
1 tbsp Sesame seeds
2 tsp Crushed red pepper
1 tsp Yellow mustard seeds
1½ tsp Ground Cumin
1½ tsp Ground Corriander
½ tsp Cardamom
½ tsp Cinnamon
1 tsp Kosher Salt
½ tsp Black Pepper
Shrimp Curry
2 fl. oz. Extra virgin olive oil
2 Shallots, minced
1 tbsp Garlic, minced
2 lbs Shrimp
4 tbsp  Gunpowder seasoning
3 tbsp Yellow Curry Paste
14 fl. oz. can Coconut milk
½ oz. Birds eye pepper
4 cups Cauliflower Lemon Mango Rice
2 tbsp Cilantro
1 tsp Gunpowder seasoning
Cauliflower Lemon Mango Rice:
4 cups Rice Cauliflower
2 fl. oz. Extra virgin olive oil
1 tsp Salt
1 tsp Black pepper
½ tsp Turmeric
1 tsp Ginger Minced
2 fl. oz.  Lemon Juice
1 tsp Lemon Zest
1 cup Diced Mango Pieces
¼ cup Parsley chopped
PREP TIME

COOK TIME

TOTAL TIME

SERVINGS4
Recipe courtesy of Chef Jason Hernandez of Blade & Tine Culinary Consulting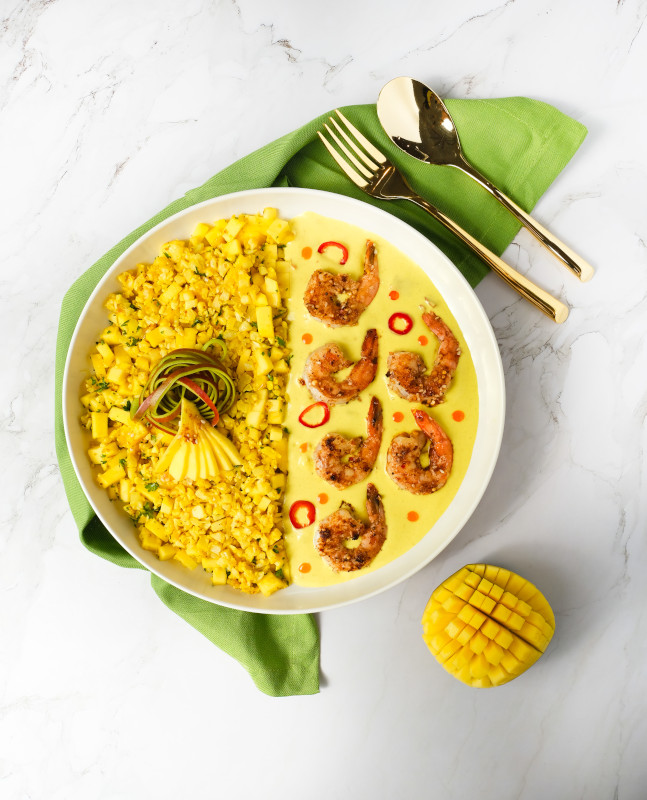 Instructions
For Gun Powder Seasoning:
Combine all ingredients into a bowl and mix completely. Place in a storage container and cover tightly.
For the Cauliflower Rice:
Using riced cauliflower, in a large sauté pan add oil to pan and turn to high heat. Once oil is hot add in the cauliflower rice and start to cook sear. Season with salt, pepper, turmeric, and ginger and cook throughout. When Fully cooked add in the lemon juice and lemon zest, mango, and parsley, and mix completely. Set Aside for plating.
For the Shrimp Curry:
In a larger sauté pan, place the oil in the pan and heat on medium high.Place the shallots and garlic in the pan and start to cook. Season the shrimp with the seasoning, once the shallots and garlic are cooked place shrimp in the pan making sure they are flat for a good sear. Sear for about a minute until half of the shrimp turns white. Flip over and cook for 30 seconds. In a separate bowl mix the curry paste, coconut milk, and peppers. Once shrimp has cooked for 30 seconds add in the curry milk mixture and bring to a simmer. Once mixture is simmering and staring to thicken up turn off and remove from heat. To plate place the cauliflower rice mixture in the bowl and then place the shrimp in the bowl next to the rice and then top the shrimp with curry sauce mixture. Garnish the entire plate with cilantro and gunpowder seasoning.