Mango Lentil Curry
PREP TIME

COOK TIME

TOTAL TIME

SERVINGS4
Ingredients
1 tbsp avocado oil
1 4 yellow onion
3-4 cloves of garlic
2 tbsp ginger
1 tbsp curry powder
1/4 tsp crushed red pepper
3/4 cup red lentils
1 cup crushed tomatoes
2 cups water
1 13.5 oz can coconut milk
Sea salt to taste
1 fresh mango
Lime wedges & cilantro for garnish
Jasmine rice
PREP TIME

COOK TIME

TOTAL TIME

SERVINGS4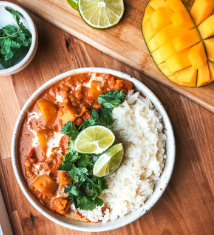 Instructions
Heat oil in a medium saucepan.

Add onions, and cook until golden brown (stirring often).

Add garlic, ginger, curry powder, red pepper flakes and cook until fragrant.

Add lentils and cook for about 1 minute (stirring often).

Add tomatoes, water and coconut milk and bring to a boil.

Reduce heat and simmer, stirring occasionally, until lentils are cooked.

Add chopped mango and cook for another 7 minutes on low.

Season with salt and pepper.Serve with jasmine rice (optional) and garnish with cilantro and lime wedges.

Enjoy!