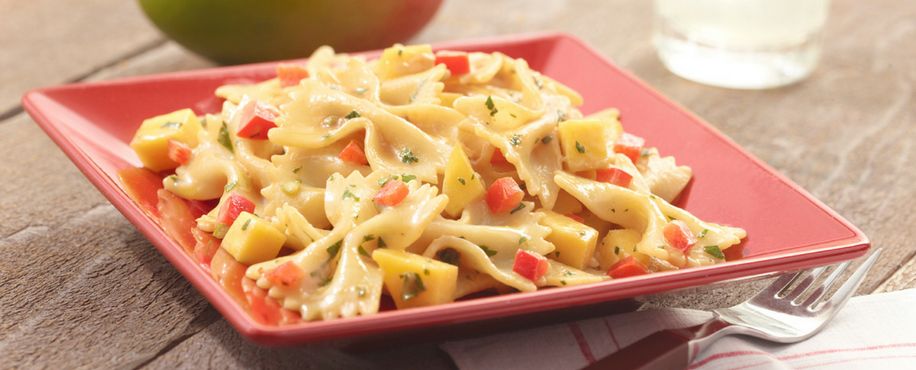 INGREDIENTS
1 tablespoon salt (optional)
1 1-pound box bow-tie pasta (or shape of choice)
3 tablespoons toasted sesame oil
3/4 cup creamy peanut butter
1/2 cup soy sauce
2 tablespoons vinegar
1 tablespoon hot sauce
1 1-inch piece fresh ginger, grated (about 1 tablespoon)
2 tablespoons sugar
3 large mangos (about 3 pounds total), peeled, pitted and diced
2 red bell peppers, seeded and diced (about 1 cup)
2 scallions, chopped (about ½ cup)
1/3 cup chopped fresh cilantro
Bring 4 quarts of water to boil in a large pot. Add salt and pasta and cook according to package instructions for al dente. Reserve 1 cup cooking water. Drain pasta in colander, rinse with cold water, drain again and transfer to large bowl. Add toasted sesame oil and toss to coat.
In a separate large bowl, whisk peanut butter, soy sauce, vinegar, hot sauce, ginger and sugar; adding pasta water as needed to thin. Add cooled pasta, mango, red peppers, scallion, and cilantro to peanut sauce and toss to coat. Serve at room temperature.
Nutrition Information: Each serving (1/10 of recipe) contains 376 calories, 52 g carbohydrate (17% Daily Value), 4 g fiber (17% Daily Value), 12 g protein (24% Daily Value), 15 g fat (22% daily value), 3 g saturated fat (13% Daily Value), 0 mg cholesterol (0% Daily Value), 946 mg sodium (39% Daily Value), and 423 mg potassium (12% Daily Value).