Mango Black Bean Chili
PREP TIME15 minutes

COOK TIME25 minutes

TOTAL TIME

SERVINGS0
Recipe submitted by Sonja and Alex Overhiser, A Couple Cooks
Ingredients
1½ cups cooked quinoa (about 3/4 cup dry)
1 green pepper
2 15-ounce cans black beans
3 mangos — 2 1/2 cups diced, plus garnish (we used the Keitt variety)
1 tbsp vegan Worcestershire sauce
2 tbsp chili powder
1/2 tsp allspice
1 28-ounce can diced fire roasted tomatoes
1 large yellow onion
4 garlic cloves
1/2 cup chopped cilantro
2 tbsp olive oil
6 ounce can tomato paste
1 tbsp ground cumin
1 28-ounce can crushed fire roasted tomatoes
1½ tsp kosher salt
PREP TIME 15 minutes

COOK TIME25 minutes

TOTAL TIME

SERVINGS0
Recipe submitted by Sonja and Alex Overhiser, A Couple Cooks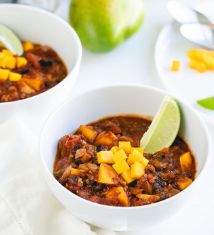 Instructions
Place 3/4 cup quinoa in a saucepan with 1 1/2 cups water.

Bring to a boil, then reduce the heat to very low.

Cover the pot, and simmer where the water is just bubbling for about 15 to 20 minutes until the water has been completely absorbed (Check by pulling back the quinoa with a fork to see if water remains).

Turn off the heat and let sit covered to steam for 5 minutes.

Meanwhile, dice the onion and green pepper.

Mince the garlic.

Drain and rinse the beans.

Roughly chop the cilantro.

Dice the mango into chunks: see How to Cut a Mango.

Measure out 2 1/2 cups for the chili, then small dice the rest for the garnish.

In a large pot or Dutch oven, heat 2 tablespoons olive oil, then saute the onion for 5 minutes over medium high heat.

Add the garlic and green pepper and saute about 5 minutes.

Stir in the Worcestershire sauce, tomato paste, chili powder, cumin, and allspice, and cook for 2 minutes, stirring constantly so that the mixture does not stick to the bottom of the pot.

Add the black beans, tomatoes, chopped cilantro, kosher salt, and 1 1/2 cups cooked quinoa (reserve remainder for future use).

Pour in 2 cups water.

Bring to a boil, then simmer on low for 15 minutes.

Stir in the diced mango, then remove from the heat.

Serve warm topped with reserved mango garnish and a squeeze of lime juice. If desired, garnish with sour cream or for vegan, cashew cream or nacho cheese.