Hawaiian Kahlua Pork Salad
PREP TIME30 minutes

COOK TIME3 minutes

TOTAL TIME

SERVINGS12
Hawaiian Kahlua Pork Salad
Ingredients
6 lbs Pork Butt
2-3 cups Apple Cider
4 Whole Garlic Cloves
1/2 cup Teriyaki Sauce
1/2 cup Coffee Flavored Liqueur
2 1/4 lbs Napa Cabbage and Tri-colored Coleslaw Mix
3 Fresh, Ripe Mangos
6 slices Fresh Pineapple, 1/4-inch thick
12 ounces Shredded Coconut
Passion Fruit Vinaigrette
1/4 cup White Wine Vinegar
1 cup Olive Oil
1/2 cup Passion Fruit Puree
1/4 cup Honey
1 tsp Shallot, diced
1 tbsp Dijon Mustard
Salt and Black Pepper, to taste
PREP TIME 30 minutes

COOK TIME3 minutes

TOTAL TIME

SERVINGS12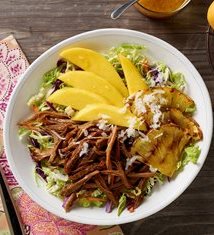 Instructions
Pork
Season the pork with salt and pepper and sauté in the braising pan until caramelized on all sides. Add 12 whole garlic cloves and 4 to 5 cups of apple cider. Bring to a simmer; cover and bake at 300 degrees F until done,  2 to 3 hours.

Remove meat from the cooking liquid and cool until easy to handle. Pull the meat and place in a large bowl. Stir the teriyaki sauce and coffee flavored liqueur together and toss with the pulled pork.
Mango
Cut a slice off the stem end of the mango (to steady) and position the "beak" toward you. (The beak lines up with the seed.)

Peel the mango and cut the cheeks away from the seed. (Cut the fruit away from the seed for another use.)

Cut each cheek in half so you have 4 quarters from each mango. Slice one quarter for each salad.
Pineapple
Cut each pineapple slice in half and grilled on char broiler for about 30 seconds on each side. Cut each half into 2 or 3 wedges for each salad.
Passion Fruit Vinaigrette
In a blender, combine all ingredients, except oil, Blend on high until well combined. Slowly add oil to emulsify.