Savory Mango Empanadas
PREP TIME30 minutes

COOK TIME40 minutes

TOTAL TIME

SERVINGS16
Ingredients
2 Tbsp Olive Oil
1 Small Onion
2 Cloves Garlic
¾ lb Ground Beef
2 Tbsp Tomato Paste
½ Tsp Cumin
½ Tsp Cinnamon
¼ Tsp Cayenne
1 (14.5 oz) Can Diced Tomatoes
¼ Cup Pimento Stuffed Green Olives
½ Cup Shredded Monterey Jack Cheese
2 Large Mangos (About 2 lbs)
2 Packages Store Bought Pie Dough, Such as Pillbury Ready Roll Pie Crust
1 Egg
1 Tbsp Water
For the Mango Chimichurri:
1 Cup Fresh Flat-Leaf Parsley
¼ Cup Fresh Cilantro
½ Large Mango
3 Tbsp Red Wine Vinegar
3 Tbsp Extra Virgin Olive Oil
1 Clove Garlic
Salt and Pepper
PREP TIME 30 minutes

COOK TIME40 minutes

TOTAL TIME

SERVINGS16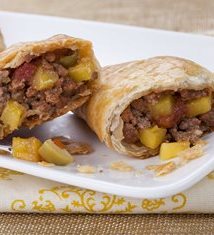 Instructions
For the Mango Empanadas:
Preheat oven to 450 degrees.

In a large non-stick skillet heat olive oil over medium heat, add onion and cook for about 6 minutes, until softened. 

Add garlic and cook until fragrant, about 30 seconds.

Add ground beef and cook until no longer pink, about 8 minutes. 

Add tomato paste, cumin, cinnamon, cayenne and canned tomatoes, simmer for about 10 minutes until thickened.

Transfer beef mixture to large bowl. Gently mix in olives, cheese and diced mango.

Unwrap and unroll each piece of pie dough, divide each into 4 sections. 

Place approximately ¼ cup filling on bottom third of each piece.

Fold dough over filling and crimp edges closed using fingers or fork.

Whisk egg and 1 tablespoon water in small bowl, brush egg wash over top of each empanada. 

Pierce top of empanadas with fork to allow steam to escape.

Bake for about 40 minutes until golden brown. 

Serve warm or at room temperature with mango chimichurri.
For the Mango Chimichurri:
Combine all ingredients in a blender or food processor.

Pulse until combined.

Add salt and pepper to taste.