Seared Ahi Tuna Sandwich with Mango Slaw And Mango Jalapeno Jam
PREP TIME

COOK TIME

TOTAL TIME

SERVINGS4
Recipe by Chef Mikel Anthony with Chef's Roll
Seared Ahi Tuna Sandwich with Mango Slaw And Mango Jalapeno Jam
Ingredients
Mango Slaw
1 mango
1/4 bunch cilantro
1/2 fresh jalapeno
1 tbsp mayonnaise
1 tsp rice wine vinegar
salt
Mango Jalapeno Jam
1 cup ripe mango
1/4 cup jalapeno
1 cup simple syrup
Seared Ahi Tuna
4 5-oz ahi tuna fillets
1 cup soy sauce
1 tsp wasabi
1/2 cup white sesame seeds
1/2 cup black sesame seeds
PREP TIME

COOK TIME

TOTAL TIME

SERVINGS4
Recipe by Chef Mikel Anthony with Chef's Roll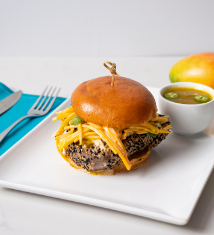 Instructions
Mango Slaw
Peel mango and cut the cheeks (flat side) away from the seed; then julienne cut the cheeks.

Gently toss with remaining ingredients; season to taste.
Mango Jalapeno Jam
Combine ingredients and cook until slightly thick.

Cool and puree.
Seared Ahi Tuna
Whisk wasabi into soy sauce.

Dip ahi tuna fillet into soy sauce mixture on both sides, then coat with sesame seeds on both sides.

Sear 2 minutes on each sides or until desired temperature.
To Assemble
Place seared ahi tuna on a brioche bun and top with 2 Tbsp Mango Jalapeno Jam and ¼ cup Mango Slaw.