Mango Stir-Fry
PREP TIME20 minutes

COOK TIME16 minutes

TOTAL TIME

SERVINGS4
Ingredients
Mango Stir-Fry
2 tbsp grape seed oil
2 chicken breasts cut in to strips
1/2 cup yellow bell pepper, julienned
1/2 cup orange bell pepper, julienned
1/2 cup mango, diced
1 cup teriyaki sauce
1/4 cup mango, sliced
Chow mein noodles for serving
Teriyaki Sauce
1/4 cup scallions, diced, plus more for garnish
1 tbsp ginger, minced
1½ tsp garlic, minced
1/4 tsp garlic, minced
1/2 tsp sesame oil
1¾ cup mango juice
2 tsp sesame seeds, toasted, plus more for garnish
5 tbsp honey
PREP TIME 20 minutes

COOK TIME16 minutes

TOTAL TIME

SERVINGS4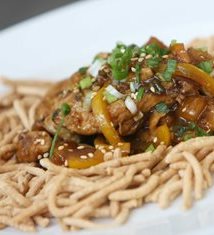 Instructions
Add oil to heated wok. Add chicken breast. Cook until golden brown, turning occasionally. 

While chicken is cooking make the teriyaki sauce by combining all ingredients and whisking together. 

Once the chicken starts to brown add yellow bell pepper, orange bell pepper and diced mango. 

Let sauté for about 3-4 minutes.

Next add teriyaki sauce. 

Let reduce until thick about 6-8 minutes, add sliced mango about 2-3 minutes before it is completely done reducing. 

In a separate pan add about 1/2 cup of the teriyaki sauce and reduce for garnish. 

Serve on a plate of chow mien noodles. 

Garnish with sliced scallions, toasted sesame seeds, and the separately reduced teriyaki sauce. Enjoy!