Mango Jicama Enchiladas
PREP TIME30 minutes

COOK TIME15 minutes

TOTAL TIME

SERVINGS6
Source: Chef Chris Mortenson, La Condesa, St Helena, CA
Ingredients
1 large jicama, peeled, sliced 1/16-inch thick
Pastor Sauce
1 ripe fresh mango, peeled, seeded, cut into 12 long wedges
Garnish options: Maldon salt, Aleppo chili powder, micro cilantro, crumbled cotija
Pastor Sauce
8 oz guajillo chili paste
2 oz cider vinegar
1¾ oz chipotles in adobo
3 tbsp grapefruit juice
1 tsp grapefruit zest
3 cilantro stems
3/4 tsp ground oregano
1/2 bay leaf
1/2 clove garlic
3/4 tsp ground black pepper
PREP TIME 30 minutes

COOK TIME15 minutes

TOTAL TIME

SERVINGS6
Source: Chef Chris Mortenson, La Condesa, St Helena, CA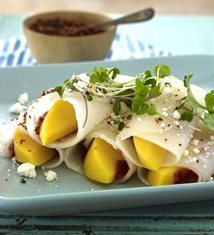 Instructions
To prepare enchiladas
Blanch jicama slices in boiling water until very flexible, about 10 seconds. Quickly plunge into ice water to cool. Remove jicama slices from ice water and pat dry. Lay a jicama slice on a work surface and brush with 1 to 2 teaspoons Pastor Sauce. Place one mango wedge on bottom third of each slice and roll up. Repeat. Place enchiladas on a platter for family service or individual plates (2 per serving); top with your choice of garnishes.

NOTE: Assembled enchiladas can be held, refrigerated, up to one hour before service.
To make Pastor Sauce
Place all ingredients in a food processor and process until pureed. Cover and refrigerate for up to six days. Makes 1-2/3 cups.