Grilled Teriyaki Mango Skewers
PREP TIME30 minutes

COOK TIME10 minutes

TOTAL TIME

SERVINGS4
Recipe courtesy of Alex and Sonja Overhiser, A Couple Cooks
*Note: Honey mangos are also known as Champagne or Ataulfo mangos.
Grilled Teriyaki Mango Skewers
Ingredients
For the homemade teriyaki sauce
1/4 cup soy sauce
2 tbsp rice wine vinegar
2 tbsp cornstarch
1/4 cup maple syrup
1/2 cup water
For the skewers
3 Honey mangos*
1 orange pepper
1 medium red onion
1 red pepper
1 medium zucchini (or 2 small)
To serve: turmeric rice, quinoa, or another grain
PREP TIME 30 minutes

COOK TIME10 minutes

TOTAL TIME

SERVINGS4
Recipe courtesy of Alex and Sonja Overhiser, A Couple Cooks
*Note: Honey mangos are also known as Champagne or Ataulfo mangos.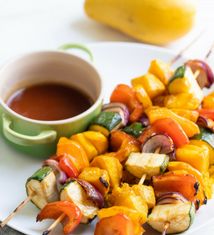 Instructions
Preheat a grill to medium heat. If using wooden skewers, soak the skewers for at least 30 minutes while preparing the recipe.

For the homemade teriyaki sauce: Combine the soy sauce, maple syrup, rice wine vinegar, and water in a medium saucepan and set over medium heat. In a small bowl, combine the cornstarch with about 1/4 cup water and whisk until dissolved. Add the cornstarch mixture to the saucepan. Heat the sauce a minute or two, stirring, until it becomes very thick, smooth and glossy. Remove the sauce to a bowl and cool the sauce while you make the remainder of the recipe. (You can also make the teriyaki in advance and refrigerate until serving.) If the sauce becomes too thick after cooling, add a very small amount of warm water a little at a time to return to the desired consistency.

For the skewers: Cut the mango into large cubes (larger than a dice) so that threads onto the skewers. Chop the red pepper, orange pepper, zucchini, and red onion into large pieces (you can cut the onion in wedges and use a few layers when threading). Thread the veggies and mangos onto skewers. Tip: We threaded our mangos 2 chunks at a time so there is proportionally more mango than veggies per skewer.

Place the skewers on a tray and brush them with the glaze on one side. Place the skewers on the grill, glazed side down, then brush the tops with the remaining glaze. Grill 6 to 10 minutes per side until tender and lightly charred.

If serving over rice or quinoa, make the grain according to the package instructions. When the skewers are finished, place over rice or quinoa and serve with any remaining teriyaki sauce if desired.