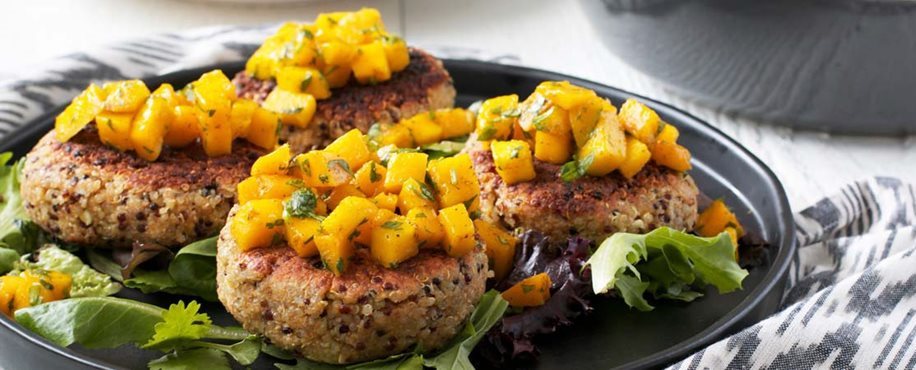 INGREDIENTS
Mango Relish
1 1/2 cups small dice ripe mango
1 tablespoon chopped fresh cilantro
1 tablespoon fresh lime juice
1 teaspoon curry powder
Pinch of salt
Quinoa Burgers
1 1/2 cups cooked quinoa
1 cup toasted whole wheat breadcrumbs
3 eggs, beaten
1 clove garlic, minced
1/2 teaspoon salt
1/4 teaspoon ground pepper
1 tablespoon extra-virgin olive oil
4 cups mixed greens
A delicious, healthy, and protein-packed quinoa burger with a fresh and flavorful mango relish kissed with curry and a hint of lime.
Make the relish: In a bowl, combine the mango, cilantro, lime juice, and curry powder. Set aside until needed.
Make the burgers: In a large bowl, combine the quinoa, breadcrumbs, eggs, garlic, salt, and pepper. Using 1/2 cup at a time, make patties out of the quinoa mixture.
Heat the oil in a skillet over medium heat and cook the quinoa burgers for 5 minutes, then flip and cook for an additional 4 to 5 minutes until golden. Serve each burger on a bed of 1 cup of the greens and top with mango relish.

This recipe was created by the National Mango Board exclusively for the Greatist.
Note: For a gluten-free option, substitute breadcrumbs with cornmeal.
Nutritional analysis per 1/2 cup serving: Calories 325; Protein 13 g; Carbohydrates 47 g; Fat 10 g; 28% Calories from Fat; Cholesterol 140 mg; Sodium 855 mg; Potassium 510 mg; Fiber 6 g