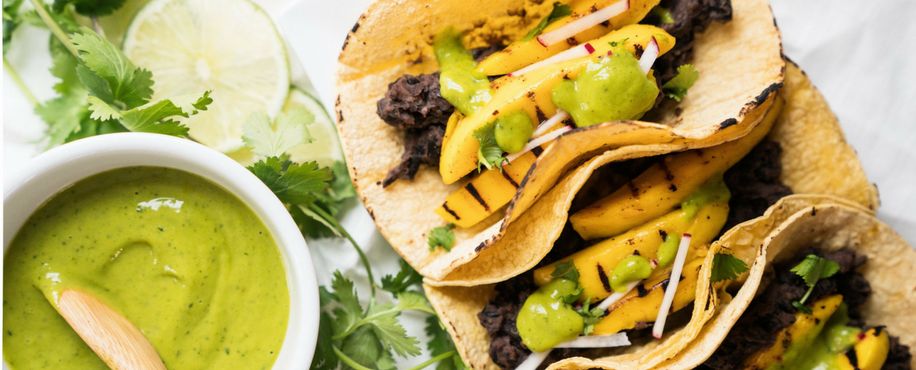 INGREDIENTS
For the refried beans
2 garlic cloves
2 15-ounce cans black beans
2 tablespoons extra virgin olive oil
1/2 teaspoon kosher salt
Black pepper
For the mango dream sauce
2 Honey mangos (1 cup diced)
1 green onion
1 cup packed cilantro leaves and tender stems
2 tablespoons lime juice (1 lime)
1/4 teaspoon cumin
1/4 teaspoon kosher salt
2 tablespoons extra virgin olive oil
2 tablespoons water
For the tacos
3 Honey* mangos
Extra virgin olive oil
Chipotle powder
Kosher salt
8 tortillas
Sliced radishes, for the garnish
Torn cilantro leaves, for the garnish
Make the refried beans: Mince the garlic. Drain the beans and reserve the can liquid in a glass measuring cup. In a medium saucepan, heat the olive oil over medium heat. Add the garlic and sauté for 1 minute until fragrant but before it browns. Add the beans, 1/2 cup of the reserved can liquid, the kosher salt, and several grinds of black pepper. Turn the heat to medium low and cook for 10 to 15 minutes, stirring often and smashing the beans toward the end of the cook time, until most of the liquid has cooked out and the texture is mashed and thick, but not dry. Add additional can liquid as needed. Taste and season with additional salt as desired.
Meanwhile, make the sauce: Dice the mango. Chop the green onion into rough chunks. In a blender (high-speed if possible), add all sauce ingredients and blend on high until a creamy green sauce forms. Pour into a bowl and reserve until serving.
Make the grilled mango: Slice the mango into strips. Place the strips into a bowl, then add a small drizzle of olive oil (just enough to coat) and a light sprinkling of chipotle powder and kosher salt. Heat a grill pan (or skillet) to medium high, then add the mango and grill for about 2 minutes per side, until blackened. (You also can use a charcoal or gas grill.)
Assemble the tacos: Warm the tortillas, or char them by placing a tortilla on an open gas flame on medium for a few seconds per side, flipping with tongs, until slightly blackened and warm. Spread a generous amount of refried beans onto a tortilla, then top with about 3 grilled mango strips, sliced radishes, cilantro leaves, and a small drizzle of dream sauce.

Recipe submitted by Sonja Overhiser and Alex Overhiser, A Couple Cooks
Serves 4