Mango and Turmeric Brown Rice
PREP TIME10 minutes

COOK TIME50 minutes

TOTAL TIME

SERVINGS6
Nutritional analysis per serving: Calories 258; Protein 6 g; Carbohydrates 35 g; Fat 11 g; 18% Calories from Fat; Cholesterol 0 mg; Sodium 125 mg; Potassium 300 mg; Fiber 2 g
Mango and Turmeric Brown Rice
Ingredients
2 tbsp canola oil
½ cup yellow onion, diced
1 cup raw brown rice
1 tsp turmeric powder
1/2 tsp curry powder
1/2 tsp mustard powder
1/4 tsp red pepper flakes
2 cup low-sodium chicken or vegetable stock
1/4 tsp salt
1 cup mango, diced
1/2 cup roasted unsalted cashews, chopped
1 tbsp fresh parsley, chopped
PREP TIME 10 minutes

COOK TIME50 minutes

TOTAL TIME

SERVINGS6
Nutritional analysis per serving: Calories 258; Protein 6 g; Carbohydrates 35 g; Fat 11 g; 18% Calories from Fat; Cholesterol 0 mg; Sodium 125 mg; Potassium 300 mg; Fiber 2 g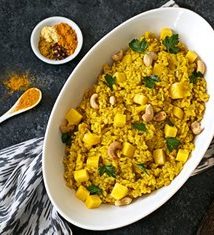 Instructions
In a large pot, heat oil over medium heat. Sauté onion until softened, about 3 minutes.

Add rice, turmeric powder, curry powder, mustard powder and red pepper flakes, and Sauté for 2 minutes until fragrant.

Add chicken or vegetable stock and salt and bring to a boil over high heat. Once boiling, reduce heat to low, cover and simmer for 50 minutes or until all stock has been absorbed.

Fluff rice with a fork and stir in mango, cashews and parsley. Serve immediately.