Fresh Mango Bento Box
PREP TIME

COOK TIME

TOTAL TIME

SERVINGS4
Ingredients
2 cup Sushi Rice, cooked
3-4 Ripe Mangos
1 12-oz Bottle Ponzu
1 pint Seaweed Salad
4-5 Sushi Grade Fish
1 box Tempura Batter
4 Chicken thighs, boneless, small/medium size
Cilantro leaves, for garnish
PREP TIME

COOK TIME

TOTAL TIME

SERVINGS4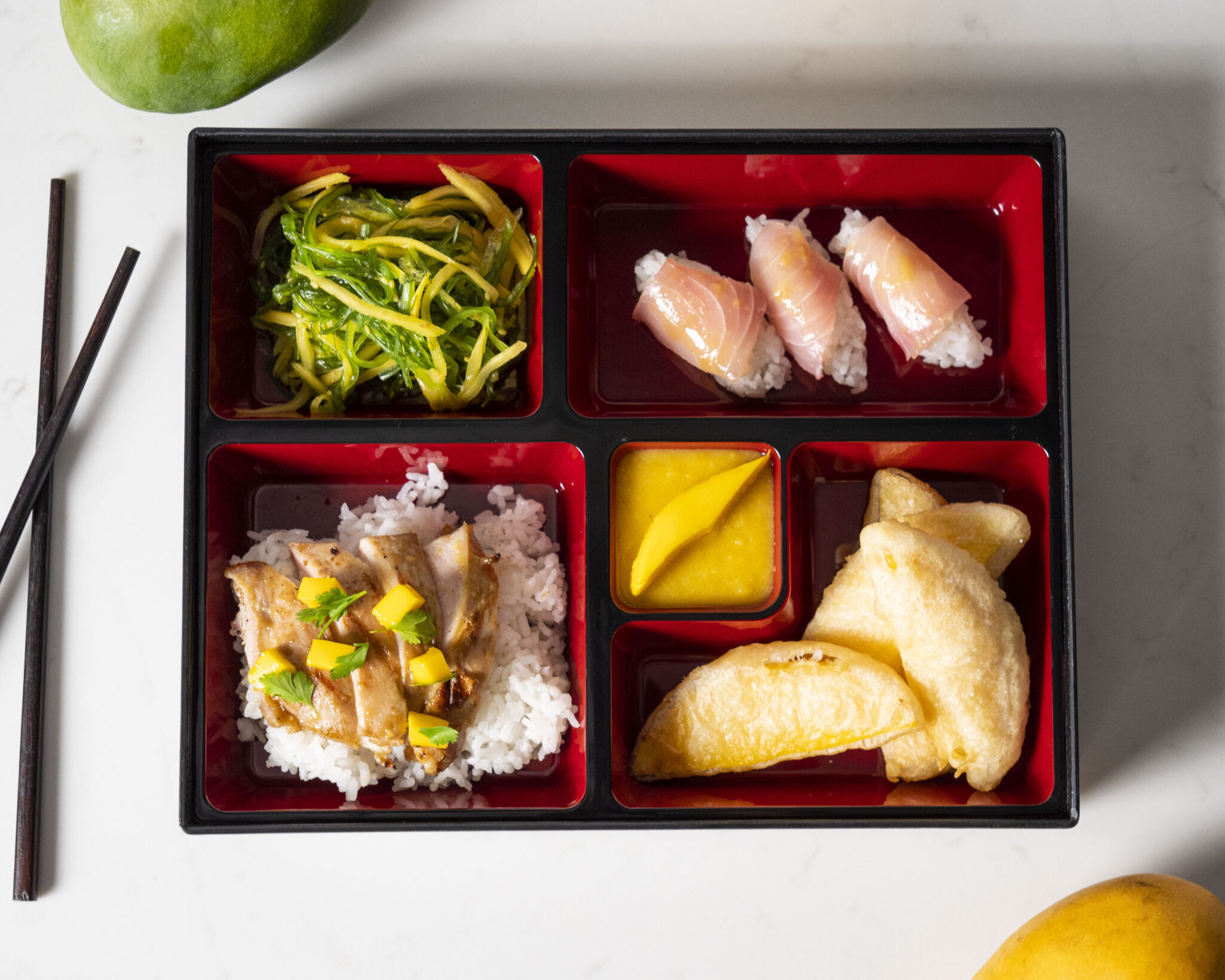 Instructions
Sushi Rice
Cook sushi rice according to package directions. To form the base for the nigiri, have a small bowl of water ready to dip your hands into to make it easier to work with the cooked rice.Take one tbsp of rice and place in the palm of your hand. With your index finger, gently pack the rice  into an oval/football shape.
Mango Prep
Peel mangos and cut the cheeks away from the flat side of the seed.

Use 1 mango cheek to julienne and toss with seaweed salad. Reserve.

Cut 1 mango cheek, per serving, into wedges and reserve.

Cut 1 tablespoon of mango into small dice and reserve for garnish.

Cut remaining flesh away from the seeds.
Mango Ponzu Sauce
Place all remaining mango cheeksand mango pieces into a blender. With blender running, slowly pour in ponzu to create a sauce consistency.

Separate the sauce into 2 parts,or 3 if you want some for dipping/garnish. You will also use this sauce to glaze the chicken and nigiri.
Nigiri
Thinly slice the fish and lay over a small amount of cooked rice that you formed in your hand. Repeat this process and glaze with mango sauce. Refrigerate until ready to assemble the box.
Mango Tempura
Prepare tempura batter according to package instructions. Dip the mango wedges into the batter and fry at 350 degrees F until light to golden brown. Reserve on a wire rack and season with salt immediately after frying.
Grilled Chicken
Heat the grill and cook chicken thighs halfway, about 4 minutes. Then baste the thighs with the mango and ponzu sauce, turning over high heat until cooked through. Slice and serve over rice.
To Assemble
Each box includes: ½ cup cooked rice + 1 sliced chicken thigh, about ½ cup seaweed salad, 1 piece of nigiri,and 3 to 4 pieces of mango tempura.

Garnish chicken with mango small dice and cilantro. Service with mango ponzu sauce, if reserved.