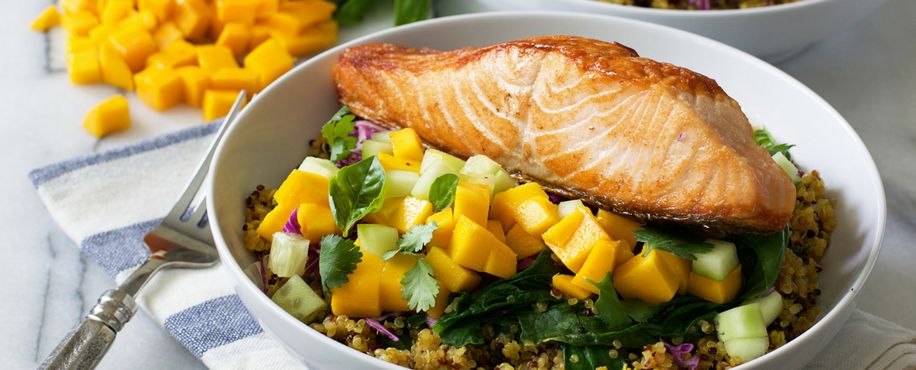 INGREDIENTS
QUINOA
1 cup light coconut milk
1 cup low-sodium chicken stock
1 tablespoon curry powder
1 teaspoon honey
1 cup quinoa, rinsed
2 cups baby spinach
SALMON BOWL
2 (6-ounce) skin-on salmon fillets
1/2 teaspoon kosher salt
1 tablespoon grapeseed or canola oil
1 large mango (about 1 cup), diced
1 cup red cabbage, shredded
1/2 cup cucumber, peeled and diced
1 tablespoon cilantro, chopped
1 tablespoon fresh basil, chopped
2 lime wedges (optional)
In a medium pot, bring coconut milk, stock, curry powder and honey to a boil. Once boiling, add quinoa and cover. Reduce heat to low and simmer for 15 to 20 minutes, until most of the liquid has absorbed. Add spinach; stir and cover. Allow to sit for 5 minutes.

Season the salmon with salt. Heat oil over medium-high heat in a skillet. Once the oil is hot, place salmon skin-side down and cook for 4 minutes, until skin is golden and crisp. Flip salmon and cook for an additional 3 minutes, until the salmon is cooked to your liking and flakes easily with a fork.

Divide quinoa between two plates and top with salmon, mango, cabbage, cucumber, cilantro, basil and a squeeze of lime juice if desired.
Nutritional analysis per serving: Calories 804; Protein 51 g; Carbohydrates 80 g; Fat 31 g; 35% Calories from Fat; Cholesterol 94 mg; Sodium 439 mg; Potassium 1902 mg; Fiber 11 g