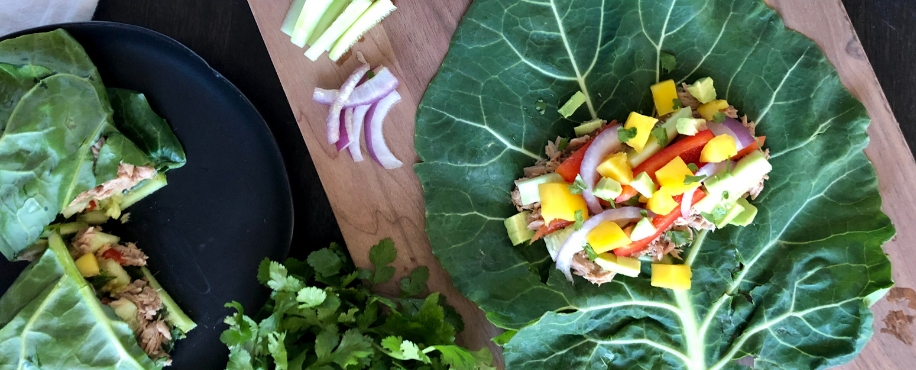 INGREDIENTS
2 (5-ounce) cans tuna, drained
1 small lime, juiced
1/2 teaspoon chili powder
1/2 teaspoon paprika
1/2 teaspoon garlic powder
Salt and pepper, to taste
1 cup fresh mango, diced
1/2 cucumber, peeled and thinly sliced into slivers
1/2 red bell pepper, thinly sliced
1/4 red onion, thinly sliced
1 small avocado, cut into chunks
1 to 2 tablespoons fresh cilantro
4 or 5 collard greens, washed and dried
Combine tuna with lime juice, chili powder, paprika, garlic powder, salt & pepper in small bowl.
Prep the collard greens by washing the leaves and drying them, being careful not to tear them in the process. Cut the stem so that it is even with the green leafy portion. Flip the collard green over so that the large central stem is accessible. To help make the collard greens roll up and form a wrap, use a knife to shave off the top portion of the stem without damaging its connection to the leaf.
Spread the tuna across the collard green, perpendicular to the stem, leaving a couple inches of room from the ends. Repeat for remaining collard greens. Then evenly divide and layer mango chunks, cucumbers, red bell peppers, red onion, avocado and cilantro into each wrap.
Fold in the two sides of the collard green over the insides, and start rolling the collard green up to form a wrap. Cut in half to eat or roll it up in cling wrap and refrigerate to eat later.
Submitted by Haley Ronsen