Vietnamese Green Mango Noodle Bowl with Beef
PREP TIME

COOK TIME

TOTAL TIME

SERVINGS0
Vietnamese Green Mango Noodle Bowl with Beef
Ingredients
4 ea Unripe (green) mango,* spiralized
1 ea Red bell pepper, julienned
2 tbsp Thai basil, chiffonade
6 cups (1 head) Romaine lettuce, chopped
1 cup Green beans, thinly sliced on bias
2 tbsp Cilantro, chopped
¼ cup Roasted peanuts, chopped
Marinade
1 tsp Lemongrass, minced
1 tbsp Soy sauce
1 lb New York strip steak
1 tbsp Shallot, minced
1 tbsp Sugar
Fried Shallots
½ cup Shallots, thinly sliced
1 cup Vegetable oil
Chili Lime Vinaigrette
1 ea Garlic clove, minced
¼ cup Brown sugar
¼ cup Lime juice
½ cup Shallot frying oil, cool
1 ea Thai bird chiles, minced
¼ cup Fish sauce
¼ cup Water
PREP TIME

COOK TIME

TOTAL TIME

SERVINGS0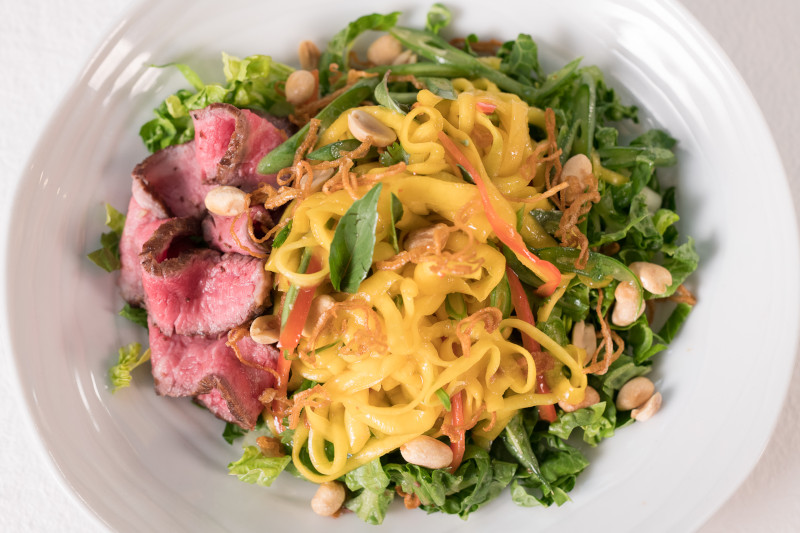 Instructions
Combine lemongrass, shallot, soy sauce, sugar in a bowl. Marinate beef for 30 minutes. Drain beef from marinade.

Place shallots on paper towel lines sheet pan for 30 minutes.

Heat a pot with the oil to 275°F. Fry shallots in batches until golden brown, drain, and reserve. Cool the oil.

Mash the garlic and chilies in a mortar and pestle with the sugar until smooth. Transfer to a bowl and add fish sauce, lime juice and water. Drizzle in the shallot oil until incorporated.

Heat a grill or griddle on high and grill or griddle the beef until just done. Slice thinly.

Toss mango, green beans, bell peppers, cilantro, and Thai basil with chili lime vinaigrette.

Place lettuce in bowls and top with the salad and beef. Garnish with fried shallots and peanuts.