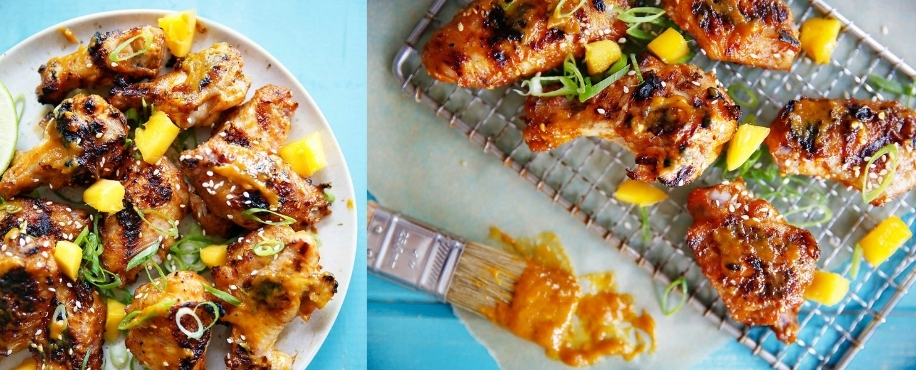 INGREDIENTS
Mango-Chili Sauce:
3 large mangos, peeled, pitted and coarsely chopped or 6 cups frozen mango chunks
1/3 cup coconut sugar
1/2 teaspoon organic molasses
1/4 teaspoon fish sauce
1/2 teaspoon garlic powder
1/2 teaspoon onion powder
1/4 teaspoon ginger powder
1 tablespoon chili paste
1 tablespoon avocado oil
1/2 teaspoon red pepper flakes
Other Ingredients:
2 pounds chicken wings (about 24), wingtips removed, or
drumettes rinsed and patted dry
Kosher salt and freshly ground black pepper
Chopped scallions, for garnish
Place all of the mango-chili sauce ingredients into a high-speed blender. Puree until smooth.
Place chicken wings in a large bowl and season with salt and pepper. Coat with 1/2 cup of mango-chili sauce, set the rest of the sauce aside for later. Sprinkle wings with sesame seeds and cover with plastic wrap. Refrigerate for 30 minutes to 1 hour.
Grease a grill or grill pan. Grill the wings for about 5 minutes on each side, or until opaque and fully cooked through.
While wings cook, place reserved sauce in a small saucepan and bring to a boil. Reduce heat to medium-low and simmer for about 5 minutes. If the sauce is too thick, add a few teaspoons of water until the desired consistency is reached. If the sauce is too thin, continue to cook until thick.
Toss chicken wings in 1/4 cup of sauce (or brush sauce on them) and place on a serving platter.
Garnish with chopped scallions and diced mangoes, and serve with remaining mango-chili sauce on the side for dipping!

Recipe courtesy of Lexi's Clean Kitchen.