Thai Shrimp and Avocado Salad
PREP TIME

COOK TIME

TOTAL TIME

SERVINGS12
Source: Chef Chuck Hatfield, Sodexo
Thai Shrimp and Avocado Salad
Ingredients
1 pound 8 ounces spring lettuce mix
12 ounces Napa cabbage, thinly sliced
1 pound 2 ounces peeled and pitted ripe Fresh Mango, sliced
1 pound 2 ounces Fresh California Avocado, sliced
1/2 cup chopped fresh mint
1/2 cup chopped, toasted peanuts
36 raw shrimp (21/25) peeled and deveined
9 tbsp prepared fresh chili garlic sauce
Fried Rice Noodles
1 cup frying oil
6 ounces rice noodles or cellophane noodles
Thai Dipping Sauce
1 cup water
1 cup rice wine vinegar
2 cups sugar
2 tbsp prepared fresh chili garlic sauce
2 tbsp chopped fresh cilantro
PREP TIME

COOK TIME

TOTAL TIME

SERVINGS12
Source: Chef Chuck Hatfield, Sodexo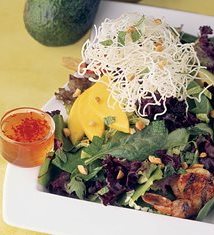 Instructions
Combine spring mix and cabbage; hold refrigerated for same day use. Per serving: Place 3 ounces lettuce mixture on a plate or in a to-go container. Place 3 mango slices on one side of salad and 3 avocado slices on other side. Place 3 shrimp around the salad in a triangle shape. Garnish with 2 teaspoons mint and 2 teaspoons peanuts. Serve with 2 ounce container of Thai Dipping Sauce. Hold refrigerated for same day service.
To make the Shrimp
Combine shrimp with chili garlic sauce; marinate refrigerated 1 hour. On a clean, hot, seasoned grill, cook shrimp 1 to 2 minutes on each side until cooked just through. Hold hot or cool quickly and use within 48 hours. To make Fried Rice Noodles: Heat oil to 350ËšF. Slightly pull apart noodles and place in hot oil to flash fry for about 10 seconds. Remove from oil; drain well. Hold at room temperature for same day service.
To make the Thai Dipping Sauce
In a saucepan, combine water, rice wine vinegar and sugar. Bring to a boil. Remove from heat and cool quickly in an ice bath for immediate use. Stir in chili paste and cilantro. Hold refrigerated and use within 48 hours.