Mango Curry (Keri Nu Shaak)
PREP TIME

COOK TIME

TOTAL TIME

SERVINGS4
Recipe submitted by Palak Patel, The Chutney Life.
Mango Curry (Keri Nu Shaak)
Ingredients
2 unripe mangos peeled, and diced into 1-inch cubes (about 6 cups)
1/4 cup + 2 tbsp jaggery
2 tbsp coriander-cumin powder
1/4 tsp turmeric powder
2 tsp red chili powder (cayenne)
1 tsp achar masala
1 tsp mustard seeds
1 tsp cumin seeds
PREP TIME

COOK TIME

TOTAL TIME

SERVINGS4
Recipe submitted by Palak Patel, The Chutney Life.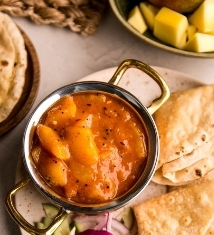 Instructions
Bring about 6 cups of water to a rapid boil. Once the water is boiling, add the peeled and diced unripe mangos, 1 tsp of salt and cook for about 10 minutes until mangos are fork tender but not mushy.

Once the mangos are fork tender, reserve ½ cup of the cooking liquid and drain the mangos.

In a large bowl, add jaggery and place the drained mangos on top (the hot mangos on top of the jaggery will help the jaggery melt). On top of the mangos, add turmeric powder, coriander cumin powder, achar masala and set aside.

In a medium size pot, heat 4 tbsp of oil on high heat. Once the oil is hot, add the mustard seeds and cumin seeds and let them splutter for a few seconds. Next, reduce the heat to medium low, and add the bowl of mangos to the pot. Add the chili powder and stir to combine all of the spices evenly and bring to a low simmer. Cook for an additional 5-7 minutes.

If the curry looks dry, add the ½ cup of reserved water (may require more or less to achieve a thick gravy).

Taste for salt and adjust as necessary. The curry should be a balance of sweet, spicy, and tart and these can be adjusted by adding jaggery, chili powder, or a touch of lime. These flavors vary depending on the mangos!

Serve hot with roti, rice or enjoy on its own!