Caramelized Mango with Crispy Serrano Ham and Jumbo Shrimp
PREP TIME45 minutes

COOK TIME15 minutes

TOTAL TIME

SERVINGS12
*A 9 count mango weighs about 18 ounces and yields approximately 11 ounces useable fruit. 1 cup 3/8" diced mango weighs 6.35 ouncesSource: Chef Adolfo Garcia, Rio Mar, New Orleans, LA
Caramelized Mango with Crispy Serrano Ham and Jumbo Shrimp
Ingredients
2 small red onions, peeled and sliced thin
1½ cups red wine vinegar
1½ cups sugar
6 fresh ripe mangos
6 tbsp olive oil, divided
12 slices Serrano ham or Prosciutto
48 large (31/35 count) fresh Louisiana shrimp, peeled and deveined
12 garlic cloves, peeled
Chili flakes, to taste
Extra virgin olive oil, for finishing
Salt and freshly ground black pepper, to taste
PREP TIME 45 minutes

COOK TIME15 minutes

TOTAL TIME

SERVINGS12
*A 9 count mango weighs about 18 ounces and yields approximately 11 ounces useable fruit. 1 cup 3/8" diced mango weighs 6.35 ouncesSource: Chef Adolfo Garcia, Rio Mar, New Orleans, LA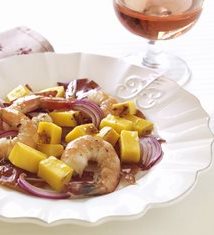 Instructions
To pickle onions, submerge the slices in the vinegar-sugar mixture with a generous pinch of salt for 30 minutes. (Onions can be made ahead and refrigerated.)

Peel mangos and cut the cheeks away from the seed. (Cut remaining fruit away from seed and reserve for another use.)

Heat 3 tablespoons olive oil in nonstick pan.

Season mango cheeks with salt and pepper, to taste.

Add to heated pan and caramelize on each side. Remove and let cool.

Bake ham slices at 350 degrees on a silicone mat or non-stick sheet pan until crisp, about 10 minutes. Let cool.

Per order: Season 4 shrimp with salt and pepper and sauté in a hot pan with 1 teaspoon olive oil and 1 peeled garlic clove. Add a pinch of chili flakes and sauté until done, 3 to 4 minutes on medium-high heat.

To assemble: Dice mango from one cheek and scatter on serving plate. Add pickled red onion randomly.

Break up 1 slice of crisp ham into large pieces and add to the plate.

Add shrimp, and then drizzle with extra virgin olive oil and sprinkle a bit of sea or coarse salt over all ingredients.