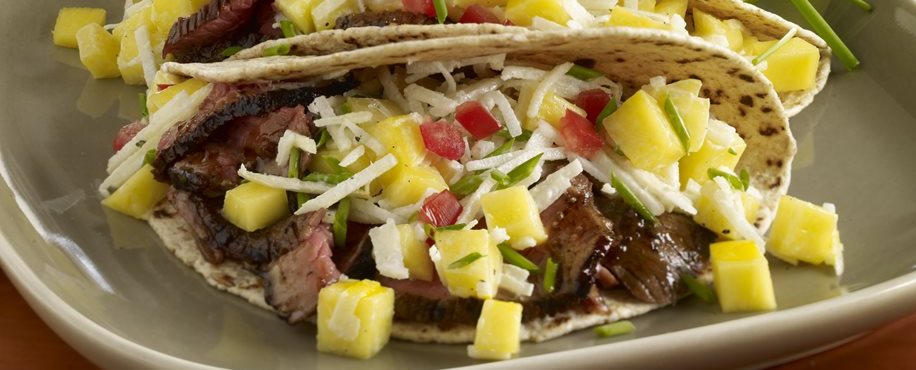 INGREDIENTS
Marinated Lamb
5 ounces apricot preserves
3 ounces (6 tablespoons) canola oil
1 1/2 ounces (3 tablespoons) balsamic vinegar
3 1/2 teaspoons minced garlic
2 1/2 teaspoons minced Fresno chili
1 1/4 lbs American lamb, top round
Mango Jicama Slaw
1 large fresh mango, peeled, seeded and diced*
1 (10 ounces) small jicama , peeled and shredded
6 ounces (3/4 cup) nonfat plain yogurt
1/4 cup thinly sliced chives
1 teaspoon honey
Salt and pepper to taste
10 whole wheat flour tortillas, 6 inch
1 plum tomato, finely diced
YIELD:
10 tacos (2 per serving)


To make Marinated Lamb:
In a large bowl, whisk together the preserves, canola oil, vinegar, garlic, and Fresno chili. Add the lamb, turning to coat. Cover and marinate, refrigerated, 3 hours. Heat grill to medium high heat. Remove lamb from marinade and grill to desired doneness (125-130 degrees F for medium rare). Remove from heat and let rest. Before service, thinly slice.


To make Mango Jicama Slaw:
Combine all ingredients in a large bowl and gently mix. Cover and refrigerate until service.


Per order:
Warm two tortillas. Place about 1 ½ ounces thinly sliced cooked lamb in each tortilla. Top with a generous 1/3 cup Mango Jicama Slaw. Sprinkle with 1 teaspoon diced tomato.

*A typical 9 count mango weighs about 18 ounces and yields approximately 11 ounces useable fruit. One cup 3/8-inch diced mango weighs 6.35 ounces.

Source: Chef Brian Corcoran, Executive Sous Chef, Harvard University, Cambridge, MA