Grilled Chicken with Mango Ginger Chutney
PREP TIME20 minutes

COOK TIME

TOTAL TIME

SERVINGS6
Grilled Chicken with Mango Ginger Chutney
Ingredients
2 lbs Boneless, Skinless Chicken Breasts
1 Large Ripe Mango
⅓ Cup Balsamic Vinegar
2 Tbsp Oil
¾ Tsp Salt
½ Tsp Pepper
Mango Chutney
2 Large Ripe Mangos
½ Cup Onion
¼ Cup White Wine Vinegar
¼ Cup Brown Sugar
1 Tbsp Fresh Ginger
½ Tbsp Lime Zest
¼ Tsp Allspice
PREP TIME 20 minutes

COOK TIME

TOTAL TIME

SERVINGS6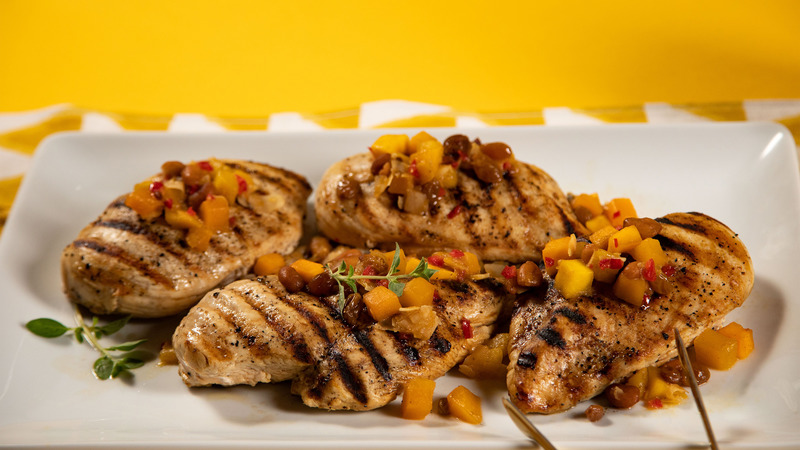 Instructions
Rinse chicken and pat dry.

Pierce surface of meat with a fork and place in a resealable plastic bag with pureed mango, balsamic vinegar, oil, salt and pepper.

Seal bag and marinate in the refrigerator for several hours or overnight.

Combine all chutney ingredients in a medium saucepan and stir well.

Bring to a boil; reduce heat and simmer, covered, for 20 minutes.

Uncover and simmer over low heat for a few minutes more to cook off excess liquid; let cool. (May be made up to 2 weeks ahead. Store tightly covered in the refrigerator.)

When ready to serve, remove chicken from marinade and grill over medium coals for about 5 to 7 minutes on each side minutes, or until cooked through.

Serve with Mango Chutney.

Tip: Leftover chutney is delicious when spread on cold or grilled ham sandwiches.