Honey Glazed Chicken Breast with Strawberry Mango Salsa
PREP TIME

COOK TIME

TOTAL TIME

SERVINGS0
Honey Glazed Chicken Breast with Strawberry Mango Salsa
Ingredients
Strawberry Mango Salsa
6 Large Strawberries
1/2 Small Red Onion
1/2 Mango
1/4 Cup Cilantro
Salt and Pepper
1/2 Lime
Honey Glazed Chicken Breast
2 Medium Boneless Skinless Chicken Breasts
2 Tbsp Lemon Juice
1/2 Tsp Salt
3 Tbsp Avocado Oil
1/4 Cup Honey
1/4 Tsp Pepper
PREP TIME

COOK TIME

TOTAL TIME

SERVINGS0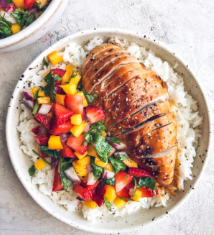 Instructions
Strawberry Mango Salsa Directions
Dice strawberries, mango, red onion and cilantro. To learn how to dice mango, check out this tutorial!

Add to a bowl, mix and squeeze lime juice over the top.

Mix again and add salt and pepper to taste.

Store in the refrigerator while chicken cooks.
Honey Glazed Chicken Breast Directions
In a medium sized skillet, add 1 tbsp of avocado oil over high heat.

 Add the chicken breasts to the skillet and cook for 3-4 minutes on each side or until the internal temperature reaches 165 degrees.

In a small bowl whisk avocado oil, lemon juice, honey, salt and pepper.

Pour the mixture over the chicken and cook until the sauce starts to reduce and thicken.

Spoon extra sauce over the top of the chicken and remove from heat. 

Pair chicken strawberry mango salsa and jasmine rice (optional).