Mango Manchego Stuffed Jalapenos with Curry Cornmeal Crunch
PREP TIME10 minutes

COOK TIME15 minutes

TOTAL TIME

SERVINGS2
Source: Chef Meryl Connell, Southwest Soul Catering Essex Fels, NJ
Mango Manchego Stuffed Jalapenos with Curry Cornmeal Crunch
Ingredients
3 tbsp Cornmeal
1 tbsp Curry Powder
1/2 tsp Salt
3/4 tsp Extra Virgin Olive Oil (more as needed)
5 Jalapeno Peppers, about 3 inches long, sliced in half lengthwise and deseeded
1 Firm, Ripe Mango, peeled, pitted and cut into matchstick pieces
1/4 lb Finely Shredded Manchego Cheese, divided
1/2 Ripe Mango, sliced for Garnish
PREP TIME 10 minutes

COOK TIME15 minutes

TOTAL TIME

SERVINGS2
Source: Chef Meryl Connell, Southwest Soul Catering Essex Fels, NJ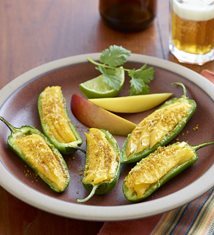 Instructions
To make the crunch: Combine cornmeal, curry, salt, and ¾ teaspoon olive oil. Set aside.

To assemble the jalapenos: Rub outside of each pepper half with olive oil. Fill center of each pepper with cheese, reserving 2 tablespoons to sprinkle on top. Place 3 or 4 sticks of mango into each pepper pushing down. Sprinkle a large pinch of crunch mixture on each pepper. Sprinkle a few shreds of reserved cheese on each pepper. Top with crunch mixture.

Bake at 400 degrees for 15 minutes; serve warm.