Grouper Fillet with Mango Pico de Gallo
PREP TIME

COOK TIME

TOTAL TIME

SERVINGS2
Recipes Developed by Ricardo Muñzo-Zurita, Azul Restaurantes, Mexico City
Grouper Fillet with Mango Pico de Gallo
Ingredients
2 (6 ounce each) grouper fillets
1/2 tsp salt
2 tbsp avocado oil
1 cup cooked white rice
1 cup Mango Pico de Gallo
1 tbsp chopped cilantro
PREP TIME

COOK TIME

TOTAL TIME

SERVINGS2
Recipes Developed by Ricardo Muñzo-Zurita, Azul Restaurantes, Mexico City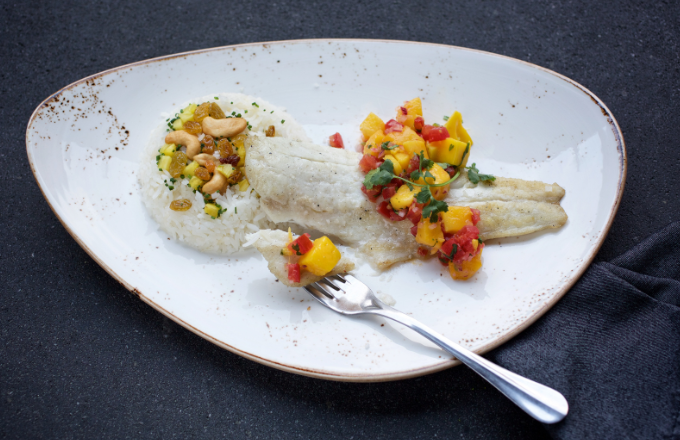 Instructions
Place the fillets on a clean, flat surface. Sprinkle with salt on both sides and set aside.

Heat 1 tablespoon oil in a pan over medium heat. Just before it smokes, add the fillet and fry on one side for approximately 3 minutes. Flip fillet and continue frying until flesh is completely white, about 2-3 minutes. Remove fillet from pan and place on a dish. Repeat with the remaining fillet.

Place a 1/2 cup scoop of rice on a warm plate. Place the fish next to the rice and pile the pico de gallo over half of the fillet. Sprinkle with cilantro and serve.