Roti Taco with Curried Mango Bread & Butter Pickles
PREP TIME2 minutes

COOK TIME2 minutes

TOTAL TIME

SERVINGS12
Recipe courtesy of Chef Dave Woolley
Roti Taco with Curried Mango Bread & Butter Pickles
Ingredients
Curried Green Mango Bread & Butter Pickles (Recipe Follows)
Chicken Tikka (Recipe Follows)
12 Small Roti or Flour Tortillas
1 Cup Crispy Chickpeas, Plain or Bombay Flavor, For Garnish
Mint Labneh (Recipe Follows)
Curry Sauce (Recipe Follows)
2 Tbsp Butter or Ghee, Melted
1 Tbsp Each Cilantro and Fresh Mint, Roughly Chopped, For Garnish
Optional Garnish: Micro Mint and Micro Cilantro Leaves
Green Mango Bread & Butter Pickles
6 Green (Under Ripe) Mangos
4 Tbsp Kosher Salt
1½ Cups Water
4 Tsp Yellow Mustard Seeds
4 Tbsp Black Peppercorns
2½ Cups White Distilled Vinegar
1 Cup Sugar
4 Cloves Garlic, Peeled
4 Tsp Celery Seeds
Curried Green Mango Bread & Butter Pickles
1 Cup Diced Green Mango Bread & Butter Pickles
1 Tsp Madras Curry Powder
½-1 Tsp Fresno Chiles, Minced
2 Tsp Pickle Brine
2 Tbsp Honey
Salt, to taste
Mint Labneh
2 Cups Labneh or Thick Greek Yogurt
1½ Tsp Fresh Mint, Minced
1 Tbsp Extra Virgin Olive Oil
3 Cloves Garlic, Peeled and Crushed
Pinch Salt (or salt to taste)
¼ Tsp Fresh Course Ground Black Pepper
Chicken Tikka Marinade
1½ lbs Chicken Thighs (Boneless, Skinless)
6 Cloves Garlic
1 Tsp Garam Masala
1 Tsp Cumin
1 Tsp Sweet Paprika
⅛ Tsp Cayenne Pepper
2 Tsp Lemon Juice
½ Cup Plain Yogurt, Full Fat (Greek)
1 Tbsp Fresh Ginger
1 Tsp ea Salt
1 Tsp Ground Coriander
1 Tbsp Canola Oil
Pinch Black Pepper
Curry Sauce
3 Tbsp Vegetable Oil
1 Yellow Onion
1 Tsp Salt
1 Tbsp Sweet Paprika
1 ⅔ Cups Tomato Puree
⅓ Cup 1 Tbsp Heavy Cream
3 Tbsp Unsalted Butter
2 Tbsp Fresh Ginger, Grated
6 Cloves Garlic
Curry Sauce Spice Mixture
1 ⅔ Cups Water
1 Tsp Sugar
Curry Sauce Spice Mix
2 Tsp Turmeric
2 Tsp Coriander
⅛ Tsp Cardamom Powder
1 Tsbp Garam Masala
1 Tsp Cumin
⅛ Tsp Cayenne Pepper
PREP TIME 2 minutes

COOK TIME2 minutes

TOTAL TIME

SERVINGS12
Recipe courtesy of Chef Dave Woolley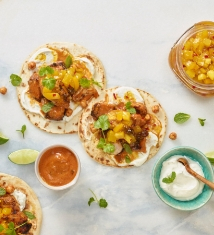 Instructions
Just before serving, rub melted butter all over both sides of all the tortillas covering as much as possible. 

In a pan or electric griddle/flattop, on medium heat, sear the tortillas.

To assemble each taco, layer on each prepared tortilla: 2 tsp Mint Labneh, 2-3 oz Chicken Tikka, 1 Tbsp (heaping) Pickled Bread & Butter Mango Curry, 1 tsp crispy chickpeas, ½ tsp cilantro and mint.
Green Mango Bread & Butter Pickles:
To prepare the mangos, peel and cut into quarters by cutting through the flesh and pit. 

Then remove the pit with your fingers. Slice each quarter into ½-inch thick and slightly curved spears.

Wash 4 1-pint canning jars and lids with hot soapy water and air dry.

Combine vinegar, kosher salt and sugar and cook over medium heat until salt and sugar are dissolved.

Add water to the vinegar mixture and keep simmering. 

With clean hands, place the green mango spears upright and divided between the 4 jars. 

You want to completely fill the jar, so pack those spears in tight.

Then slip into each jar: one garlic clove, 1 tsp each of mustard and celery seeds and 1 tbsp of black peppercorns to the top of each jar.

Pour hot vinegar brine into each jar; fill the jar so that all the upright mango spears are covered with the brine.

Screw on jars lids, tap the jars lightly to release any air bubbles and refrigerate 7 to 10 days. Keep refrigerated and use for up to one month.
Curried Green Mango Bread & Butter Pickles:
Combine all ingredients and cook over low-medium heat until reduced to a syrup consistency, 12 to 14 minutes.
Mint Labneh
Mix the garlic, salt and the mint in a mortar and pestle or food processor or by hand with a knife and cutting board until you get a paste. 

Add this mixture to the yogurt and mix well; drizzle extra virgin olive oil into mixture and whisk to combine; season with pepper.
Chicken Tikka:
To make the curry sauce, in the same pan used to char the chicken, wipe with paper towels.

Turn heat down to medium high.

Add oil and butter. When butter is melted, add onions, ginger and salt.

Cook, stirring constantly to ensure it doesn't burn, until the ginger is starting to turn golden and the onions smell sweet, 5-7 minutes.

Reduce the heat to medium. Add the garlic and paprika, and cook for 2 minutes.

Add the Curry Sauce Spice Mix and cook 2 minutes, stirring constantly.

Stir in tomato puree and water. 

Bring to a simmer, then cover and reduce heat to low.

Simmer for 15 minutes, stirring occasionally. Pour Curry Sauce into a deep bowl, then use a stick blender to puree until smooth. Alternately, puree in a blender until smooth.

Return sauce to same pan. Add cream, sugar and butter. Stir to melt the butter. 

Add chicken and simmer for a few minutes until the chicken is cooked through. Will hold 3 days – cooled, covered, refrigerated.